October 2016
Thoughts From Our President
Back to Top
The goal of our newsletter is to provide useful information for MEDITECH users and not to make it a typical newsletter that focuses on marketing our services. I believe most of the time we succeed. I ask your indulgence, as a competitor is putting out incorrect information, and I feel compelled to address this.
I don't intend to name the competitor, but this quote is from one of their recent marketing pieces: "[Other Consulting Company] is the only READY partner with more than five 6.x Go LIVEs and a 100% success rate." I believe this is probably an accurate statement regarding their experience, but here is where they are wrong. NHA has the most experience with the MEDITECH READY program, which, by the way, we co-developed with MEDITECH and continue to work closely with them to enhance and refine.  Further, the track record of our success rate can be verified by our consistent "Best in KLAS" rankings and performance when compared to other consulting firms (#1 in Enterprise Implementation Leadership for 2015/2016; #1 in KLAS study on MEDITECH Consulting companies, August 2015). You will never find NHA misrepresenting our experience or that of our competitors, and one should question the integrity of those that do.
 Here is our experience:
6.x/READY projects completed:

16

6.1/READY projects in process:

19
To the best of our knowledge, NHA has led nearly half of all MEDITECH READY projects to date, and, while there are a number of certified READY consulting companies, we continue to be selected as often as all others combined. If you are seeking the most experienced and knowledgeable 6.1 READY partner, make sure you speak with us, and be sure to download our article outlining the top ten considerations for deciding which READY-certified firm is right for you.
  
There are many other unique advantages that NHA brings to 6.1 projects. If there is interest in exploring 6.1, I'd ask that you contact us for more information.  We would be honored to share our track record of successful READY projects delivered.
 
Thank you for allowing me to correct the record, and I believe you will find the rest of this newsletter filled with useful information on MEDITECH. 
 
John Haffty, President
Service Line Dashboards with MEDITECH's New BCA Product
Back to Top
In July we shared some information on MEDITECH's Business and Clinical Analytics (BCA) product, which has now been delivered to C/S and 6.1 clients and holds tremendous promise for providing the type of access to data that decision makers are seeking. We have been intrigued by the power of service line reporting that a few hospitals have used with the Cost Accounting (CA) product, but BCA makes this much easier to create and more accessible. Here are some things to consider:

During MEDITECH's session at the MUSE Executive Institute at this year's International MUSE Conference, they showed one of the service line dashboards within BCA. On the screen below is a look at total cost for a patient account, by DRG (example below), as well as by service, facility, financial class and zip code. Total cost can be viewed in an average or aggregated total manner, by selecting one of the radio buttons on the left-hand side of the screen. These total cost amounts come from MEDITECH's CA solution. If your hospital does not use MEDITECH's CA, you have the option to upload total cost numbers from another vendor's product or fill out a table of cost-to-charge ratios at the department level.

Of note, this screen looks only at total cost and does not get deeper into cost breakdowns (direct, indirect, microcosting, etc.) That is true whether sourced from MEDITECH or one of the other options.
Within MEDITECH's Service Line content area there are reimbursement analysis dashboards, which look at reimbursement by financial class, DRG, facility, etc.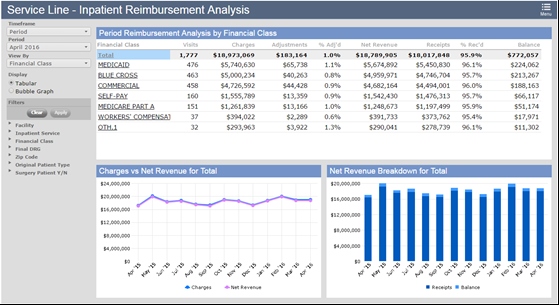 Surgery dashboards are provided, which look at costs recorded in Operating Room Management (ORM) or Surgical Services (SUR), depending on the platform. An example is below. (Note this is a C/S example; the 6.1 version looks different because the cost categories that are tracked within SUR are different.)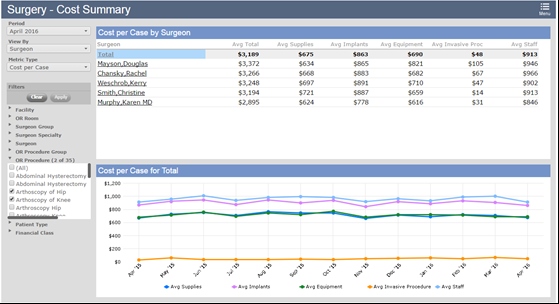 We hope this provides some incentive to look at the potential that is available with BCA.
KLAS Rankings
Back to Top
Each month we share our KLAS rankings and some comments from clients. We believe KLAS provides the best representation on how vendors are performing in the eyes of their clients in our industry. We hope this serves as a reminder to check KLAS rankings and commentary when considering a consulting company.

In every category we score above the industry average. As of October 3, here are our rankings:

3rd – HIT Enterprise Implementation Leadership – We were awarded "Best in KLAS" for this category for 2015/2016. Please note that only one other MEDITECH READY certified company is even ranked in this category.
2nd – Technical Services – Our score has improved since year end as well. This category covers report writing, data repository and pro-ration rules services.
11th – IT Advisory Services – Previously known as Planning & Assessment, where we were "Best in KLAS" for 2014.
14th – HIT Implementation Support and Staffing – for small READY implementations and backfill resources. Note that our score is higher than every other MEDITECH consulting company.
Here is a recent comment collected by KLAS from a current NHA client executive:

"Navin, Haffty & Associates is always very engaged. When we engage with this firm, they always send over great consultants, and we always get a great return from them. I have a great relationship with John Haffty. He advises me from time to time, and I can call John on the phone and get great advice." – Executive

Please note selected commentaries may not represent the whole of provider sentiment related to this product or service. For a complete view, visit KLASresearch.com.
MEDITECH's Physician and CIO Forum – October 20-21
Back to Top
Last year MEDITECH combined its Physician and CIO Forums into one session, which was a huge success, providing significant education and helping bridge the understanding of the needs of physicians with the challenges of CIOs. MEDITECH is repeating this format this year on October 20 and 21 at their new conference center in Foxborough, Massachusetts. There is still time to register.

Further, MEDITECH has published the agenda, and there are five breakout sessions to allow maximum participation. Below are a few sessions that we believe might be of interest:
Evolving Payment Models: Preparing for MACRA and Care Bundles

Expecting the Unexpected with Disaster Recovery: How One Customer's Quick Thinking Saved the Day

Care Management Tools and Approaches to Support Population Health

Expert Panel Discussion: Challenges of Effective Physician Governance for an EHR Implementation

The Discharge Process

Problem List: An Exploration of Best Practices

Business and Clinical Analytics: Actionable Insights

Medication Reconciliation on Discharge

6.1 Getting It Done: A Customer Perspective

Solutions to Connect Your Community

The Shared PFSH: Documenting Family History and Centralizing Patient History Data

Leveraging MEDITECH Physician Documentation to Improve CDI Processes

Connecting the Patient Experience

Implementing MEDITECH's Sepsis Management Toolkit: Saving Lives!

A Tour of Home Health and Hospice Integration

Anesthesia Integration Suite: Bridging the Clinical Gap Within the Continuum of Patient Care
In addition, they are including "Doctors' Lounge" sessions on their web-based Ambulatory, Acute and Emergency Department products, providing informal but highly interactive experiences, which will be of interest to physicians.

CloudWave, Forward Advantage and NHA will again co-sponsor a welcome reception for attendees the evening before the Forum gets underway. The reception will be held October 19 at Bar Louie in Foxborough, Massachusetts from 6 to 9 p.m. To request your invitation for the event, please contact Susan LaVita.
NHA is Hiring
Back to Top
To keep up with demand from our clients, NHA continues to need excellent MEDITECH specialists. For the third year in a row, we have been named to the Top 100 "Best Places to Work" by Modern Healthcare magazine.

We believe there are significant advantages to being part of NHA. As part of the largest consulting company focused exclusively on serving the MEDITECH community, we enjoy an exceptional working relationship with MEDITECH, offer a collaborative work environment and treat each of our staff with respect. Our competitive compensation package includes exceptional medical insurance coverage as part of our extensive benefits as well as on-going education to maintain and develop your skills and talent. Our employment approach and focus on long-term business relationships has led to an unparalleled record for consultant and client retention.

If you have interest in consulting and have solid MEDITECH experience with implementing one of their applications, please contact us. We have an outstanding mentoring program for new consultants and have the best reputation in the MEDITECH community for training and development of our staff. We are the first company certified in the new MEDITECH READY implementation methodology.

We are also interested in experienced consultants from other companies. As the largest company that works exclusively with MEDITECH, you would be supported as you continue to build your skills. In addition, our management approach has demonstrated a respect for our consultants and created a collegial atmosphere that encourages information sharing and support.

While we have a number of openings, at this time, we are particularly interested in candidates with MEDITECH 6.1 experience, particularly Revenue Cycle, Patient Access and Ambulatory. Also, we are interested in candidates with strong Data Repository/SQL experience and 6.x Report Designer experience.

If you are interested please contact us at recruiting@navinhaffty.com or call us at 855-309-9334. See what positions are currently available by visiting the NHA Current Openings page.

Please note that at this time, we are only able to consider those able to travel up to 80% of the time. (Current employees of MEDITECH or of our clients cannot be considered.)
Client Job Board
Back to Top
If you are interested in exploring new positions at other organizations visit the client job board section of our website. This is a free service of NHA to the MEDITECH community. Currently, there are many postings from MEDITECH organizations. If you or a colleague are interested, check out what's open.
If you would like to include your organization's listing on the NHA website, please email Katie Kelly at kkelly@navinhaffty.com. (Please note that as this is a courtesy to the MEDITECH community, we will not accept postings from recruiting companies.)