October 2015
Thoughts From Our President
Back to Top
To read the industry press you would think MEDITECH was fading away. We believe they are poised for a resurgence. Despite the loss of some clients and a slight decline in market share, MEDITECH remains one of three dominant EHR vendors in the industry. Statistically speaking, MEDITECH has over 2,400 clients. The number of MEDITECH clients by platform is outlined below:
Client/Server – 1,056
MAGIC – 848
6.x – 546
Over the past five years 285 clients have been added, 137 of which implemented 6.x. Clients often add their existing platform as they acquire hospitals and this has resulted in the addition of 22 MAGIC and 126 Client/Server sites. In addition, MEDITECH has signed 31 organizations for the new Ambulatory product. Of the 546 Ambulatory 6.x sites, 279 have chosen 6.1, with some already LIVE.
MEDITECH's market share for hospitals by bed size demonstrates a strong industry presence:
23% – under 99 beds
36% – 100-199 beds
36% – 200-299 beds
27% – 300-399 beds
17% – 400+ beds
We hope you'll find this information helpful.
John Haffty, President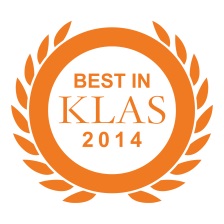 Navin, Haffty & Associates
2014 Best in KLAS Planning and Assessment
2014 Category Leader Staff Augmentation
Resource: Clinical Tool Enhancements & More
Back to Top
New resources were announced in MEDITECH's September Service Highlights newsletter. The following announcements come directly from MEDITECH:
MEDITECH Launches New CAUTI Prevention EHR Toolkit: Did you know our Electronic Health Record (EHR) supports your organization in the prevention and early detection of Catheter-Associated Urinary Tract Infections (CAUTIs)? Check out our CAUTI Prevention Toolkit, a new implementation toolkit for MAGIC, Client/Server, and 6.x customers with best practice workflows and setup instructions, aligned with industry-standard recommendations and customer experiences, for reducing this most commonly reported hospital-acquired condition (HAC).
Clinical Decision Support Intervention & Rules: MEDITECH is pleased to announce a new resource area for customers highlighting Clinical Decision Support Interventions (CDSi) that can be built within MEDITECH's EHR to help clinicians deliver safe, quality healthcare.

We have created the Clinical Decision Support Interventions & Rules website for MEDITECH physician and nursing customers to access CDSi designed to help improve patient care, meet ARRA Meaningful Use requirements, address high-priority health conditions, and satisfy HIMSS Analytics and other industry initiatives.

Visit this webpage to access a variety of resources and materials for CDSi, including an overview of MEDITECH's CDSi functionality and an intervention library we are populating with specific interventions. If your hospital has already implemented an effective CDS intervention, please let us know via our "Share Your CDSi" menu option. Our goal is to continually populate the library with effective interventions being used by customers in the LIVE environment.

Clinical Leadership Preparedness Program Executive Webinars: Designed to provide guidance on the concepts and skills necessary for successfully implementing and adopting an EHR, this series targets those who want to learn more about the role physicians play in an implementation. The four one-hour webinar sessions are hosted by MEDITECH physicians and offered via our Doctor Hours' program.
Update: KLAS
Back to Top
The KLAS rankings and related comments for early October have recently been published. We are pleased that many of you take the time to participate in the KLAS studies and share your experience working with Navin, Haffty & Associates (NHA). As of the date of these rankings (October 6) we are proud to score higher than every other MEDITECH certified consulting company in every category.

NHA's current rankings out of all KLAS rated consulting companies in the industry:
1st – Implementation Clinical – Principal
1st – Staff Augmentation, winning 2014 KLAS "Category Leader"
2nd – Technical Services
3rd – Planning and Assessment, winning 2014 "Best in KLAS"
7th – Implementation Clinical – Supportive, winning 2012 "Best in KLAS"

Please note that KLAS is in the process of combining some categories and this will take effect later this month. In November we will share our rankings within the updated categories.

Below are recent KLAS comments from NHA clients. Please note selected commentaries may not represent the whole of provider sentiment related to this product or service. Visit KLASresearch.com for a complete view.
"Navin, Haffty & Associates is very collaborative with their clients; they are very responsive. I think they are very analytical, and they tailor their analysis to the clients. I have been very impressed with that. I was also particularly impressed with their responsiveness. I was unhappy with a project manager's deliverables, and NHA was very responsive in resolving that. They actually sent somebody relatively high on their senior leadership to come on-site, stabilize things, and get things up and running. The project ended up being very successful. The subject matter experts they have on-site, particularly the ones we currently have, are fantastic in their roles. The ones who have clinical experience are excellent at that, and they have a fantastic rapport with our clinical staff. They are very professional. We did have some bumps with NHA, which I think is expected with any project, and their responsiveness was impressive. Also, I very much like to understand the analytics behind an assessment, and they are very good about accommodating me and getting the details I request." – Physician, September 2015

"Right now, we are totally in love with our Navin, Haffty & Associates consultant. I feel like NHA has been responsive, even when the consultants haven't done quite as well as they should have. With one project, Navin, Haffty & Associates gave the consultant additional resources, so I think the vendor is really solution oriented. They check in to make sure things are going okay, and we get status updates. They have a pretty formal system, so even though I know what our consultant is working on, NHA gives me formal status updates concerning what our consultant has accomplished and what is planned." – Analyst/Coordinator, August 2015

"Navin, Haffty & Associates has some top-notch experts on MEDITECH. We leaned on them pretty heavily for that. We had some initial performance issues, and they helped us fix those pretty quickly. They had a lot of expertise about MEDITECH…They were pretty solid partners when it came to knowing the ins and outs of the implementation process." – CIO, August 2015
MU Alert: Changes Approved for 2015, 2016 – Eligible Providers, Eligible Hospitals & Critical Access Hospitals
Back to Top
On October 16, CMS officially published the approved, final requirements for Stage 1 and 2, 2015 through 2017. This publication also includes proposed Stage 3 requirements with a 60 day comment period before final approval is released. The final rule is posted at http://www.federalregister.gov/a/2015-25595.

In addition to multiple changes to core and menu criteria for 2015 through 2017 for both providers and hospitals, CMS has made major programmatic changes including the following:
The EHR reporting period for hospitals has changed and is now based on calendar year. The 2015 year for hospitals would encompass 15 months, from October 1, 2014, to December 31, 2015. The calendar year reporting period will continue in 2016 and beyond for providers and hospitals.
For 2015 only, providers and hospitals will attest to a reporting period of any contiguous 90 day period. This applies regardless of stage and year of attestation. October 3, 2015 is the final day to start the 90 day reporting period for 2015. The final day to submit your attestation data is February 29, 2016.
For 2016 and beyond, a full calendar year reporting period is required for Meaningful Use (MU) participants at Stage 1 Year 2 and beyond. For Stage 1 Year 1 participants in 2016, a 90 day reporting period will be in effect.
CMS is attempting to bring Stages 1 and 2 criteria together into a single set of criteria and requirements. For Stage 1 sites, the 2015 requirements would impose an onerous burden. In order to accommodate Stage 1 attesters, CMS has attached numerous exemptions to the 2015 requirements which eases the burden.
CMS has approved the removal of certain core and menu criteria for 2015 and beyond. For providers, 12 criteria (or measures within a criterion) are being removed. For hospitals, 13 criteria are being removed.
There are many changes and exemptions applying to all the criteria and requirements so we urge readers to review the more complete description of changes found on the NHA website. This article discusses Stage 1 and 2 requirements for 2015 through 2016. Stage 3 requirements will be optional starting in 2017 and mandatory in 2018. We will present an analysis when requirements are finalized.
Business Case Discussion
Back to Top
Last month we shared two business case discussions to provide alternative perspectives when facing business challenges. This generated a lot of feedback and follow-up. Below is another business case we were asked to explore.

This client is a community hospital in the 75-100 bed size range that has been running MAGIC for many years. They are now part of a larger organization that wants to convert them to their core EHR. Generally this is the best strategy, but in this case doing so will increase their annual IT costs from around $2 million to $5 million a year. They would not be able to afford this without eliminating a number of clinical positions.

Some key points from the discussion:
The starting point was the affordability of this decision and what the impact would be on the entire organization. Does a single clinical database reduce costs? Yes. Does it offset the increased IT costs in this case? Not even close.
The major issue is getting clinical data to the physicians. MEDITECH's commitment to interoperability and the availability of several vendors providing these interfaces suggest both the one-time cost and on-going costs of a CCD exchange or a set of interfaces would accomplish the majority of the clinical needs for a fraction of the cost. Further, many hospitals have achieved close to the same outcomes with the use of the "MAGIC" button.
Providing lab and imaging results meets the majority of the clinical data needs.
In the face of a healthcare industry where declining revenue is quite likely, there is a responsibility to focus on the value of IT investments while recognizing the likely trade-offs for an organization. Although we believe a single integrated database represents the best approach to delivering clinical data, in this case the impact would be a significant reduction in clinical and support staff. Interfaces can often meet the majority of needs without adding to on-going costs of IT services or resulting in necessary trade-offs to other parts of an organization.

These business challenges raise IT decisions to the most strategic level for many organizations. If you have a similar challenge, we are always glad to discuss and offer additional information or support.
MEDITECH Events
Back to Top
Physician & CIO Forum
MEDITECH is combining its CIO/Technology and Physician Forums into one event this year. It will be held November 5-6.
Registration
is open and MEDITECH has now announced its keynote speakers:
Dr. Ron Ross from the Information Technology Lab at the National Institute of Standards and Technology will address cybersecurity.
Dr. Kenneth Mandl is Director of Boston Children's Hospital Informatics Program and is a pioneer in the use of IT and big data for population health, discovery, patient engagement and care redesign.
There will also be many exciting breakout sessions. For those planning on being at this forum, you may want to consider attending the following:

READY Implementation from a Physician's Perspective
Thursday, November 5 at 3:15 p.m.
Breakout Session 2

Dr. Deanna White, Anderson Regional Medical Center, Steve Taylor, CIO, Anderson Regional Medical Center and Director Rob Hoehne, Navin, Haffty & Associates will share the journey of Anderson Regional Medical Center, Meridian, MS utilizing the tools and methodologies of READY for their very successful migration from MAGIC to 6.1.
We hope to see you there.
MEDITECH On the Road Event
MEDITECH has scheduled the following locations and dates for "MORE" (MEDITECH On the Road Event). During this one day event you will:
Learn strategies for getting MORE from your current MEDITECH system.
Discover how MEDITECH's clinically sophisticated tools are redefining productivity.
Hear from customers who've made the move to MEDITECH's bold new platform.
Client Job Board
Back to Top
If you are interested in exploring new positions at other organizations visit the client job board section of our website. This is a free service of Navin, Haffty and Associates to the MEDITECH community. Currently, there are many postings from MEDITECH organizations. If you or a colleague are interested, take a look and see what's open.
If you would like to include your organization's listing on the Navin, Haffty & Associates website, please email Kelly Tracy at ktracy@navinhaffty.com (Please note that as this is a courtesy to the MEDITECH community, we will not accept postings from recruiting companies.)
NAVIN, HAFFTY & ASSOCIATES
Back to Top
Since our inception, Navin, Haffty & Associates' sole focus has been providing solutions that maximize the value of your MEDITECH EHR. The experience we have gained along the way has made us the largest and most respected MEDITECH consulting firm in North America. This exclusive focus has allowed us to provide clients with greater insight and understanding of MEDITECH's capabilities and the expertise to better deliver innovative tools, solutions, and strategies that improve your operational performance and enhance patient care quality. Our proven track record has positioned us to become MEDITECH's first and most experienced READY-certified consulting firm.
Our staff not only makes up the largest MEDITECH consulting team available, it is also comprised of the most experienced professionals in the industry. Our pool of 220+ consultants are some of the most seasoned professionals in the industry with an average 14 years of MEDITECH, 18 years of overall IT, 6 years of consulting, and 20 years of EHR/HCIS experience. By leveraging the combined expertise of our consulting team, Navin, Haffty & Associates stands second to none and is uniquely positioned to meet the needs of any organization utilizing the MEDITECH EHR. Our proven track record of success has led to Best in KLAS rankings for Planning and Assessment and Category Leader for Staff Augmentation.