November 2015
Thoughts From Our President
Back to Top
Navin, Haffty & Associates (NHA) was named one of the top 100 "Best Places to Work" by Modern Healthcare for the second year in a row! We finished 27th overall and 15th among vendors, ranking us higher in both categories than in 2014. We believe that having a satisfied workforce directly relates to having satisfied clients which is our ultimate goal.

As part of their evaluation process, Modern Healthcare conducts an extensive and anonymous survey of all employees. We have participated these past two years with the goal of having an independent assessment of staff satisfaction and getting feedback and suggestions on how to be a better employer. While compensation is important, we heard that excellent benefits, home-work balance, supportive managers, ongoing education, professional development and a culture of collaboration and openness distinguish NHA among top employers. Further, while no employer gets it right all the time, we hope that we have created an environment of trust that allows us to address any concerns.

Thank you to the NHA leadership team for creating and maintaining our exceptional work environment.
John Haffty, President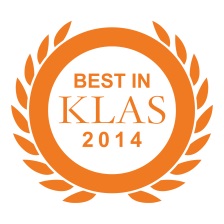 Navin, Haffty & Associates
2014 Best in KLAS Planning and Assessment
2014 Category Leader Staff Augmentation
Update: KLAS
Back to Top
In October, KLAS consolidated a number of professional services categories to better represent how these are provided.

Specific to the Implementation Services segment, they consolidated Implementation Principal – Clinical and Implementation Principal – Other into HIT Enterprise Implementation Leadership. For the MEDITECH community, this category represents the services associated with the READY 6.1 implementation model.

Also, Implementation Supportive – Clinical and Staff Augmentation are now combined into HIT Implementation Support and Staffing.

Further, the Advisory Services segment saw four current categories, Planning and Assessment, ICD-10 Consulting, Vendor Selection and BI Consulting consolidated to two categories, IT Advisory Services and Value-Based Care Advisory Services (which is focused on ACO/value based advisory services).

There were no changes to the Technical Services or Go-Live Support categories. The NHA rankings using these new categories as of November 9 is as follows:
1st – HIT Enterprise Implementation Leadership
1st – IT Advisory Services
2nd – Technical Services
7th – HIT Implementation Support and Staffing

We are proud that our clients have rated us so highly. Note that as of this date, NHA ranks above every other MEDITECH consulting company in every category in which we are rated!

Below are recent KLAS comments from NHA clients:
"Navin Haffty brought expertise to our system. We were some of the first to go live with the version we are on, so that is saying a lot. They brought us staff members who had worked on the go-lives that happened before ours, and those staff members brought very good expertise. I have zero complaints about the skills and quality of Navin Haffty's people." – CIO, November 2015

"Navin Haffty worked hand in glove with our vendor to coordinate the project and make sure everything stayed on track. There wasn't a single time when we felt like we had to reel the consultants back in because they were headed off on the wrong tangent. The coordination was exceptional." – CIO, November 2015

"NHA did a good job of keeping us on track with our timeline and with the project planning. They identified what needed to be done." – Director, October 2015
Please note selected commentaries may not represent the whole of provider sentiment related to this product or service. Visit KLASresearch.com for a complete view.
MEDITECH Physician & CIO Forum Updates
Back to Top
Earlier this month, MEDITECH held its Physician and CIO Forum. If you couldn't attend, you might want to check out the various presentations on their website as there were great breakout sessions regardless of whether you are running 6.x, C/S or MAGIC.

NHA was proud to see so many of our clients presenting, including during the two opening sessions:
It was great to see so many current and past clients and friends while enjoying the high energy level and positive buzz surrounding attendees at the forum.
READY-Certified Firms – What Does Certified Mean?
Back to Top
As part of MEDITECH's Enhanced Implementation Program (a.k.a. READY implementations), MEDITECH has establish a certification process for consulting firms. So what does READY certification mean to you?

MEDITECH sets standards that require each firm to have a minimum level of 6.x implementation knowledge and experience. It is important to note that each firm is responsible for developing its own offerings and establishing valued services that are aligned with MEDITECH's READY program. It is also important to note that the certification process does not distinguish between the quality or the effectiveness of a firm's methodologies, tools, templates, or its overall ability to deliver services.
MEDITECH's READY program provides clients with a suggested staffing model that gives the minimum level of certified consulting resources an organization needs to begin the implementation. While this "baseline" generally positions a client to initiate the project, it is not intended to represent the entire project resourcing need. It is important to understand total resourcing requirements and to complete a more comprehensive staffing assessment. Based on our experience to date, we suggest that you not assume the baseline represents the full picture. Staffing to the baseline may only position this as an IT project, where as a complete staffing assessment can provide a view of a right-sized team and position your project to be more transformative and drive significant benefits and value throughout your organization. If a firm suggests that the baseline is all you need, without completing a detailed staffing review, you should question the experience of the firm.

As you develop your plans for 6.1, there is a need to balance your budget for outside assistance with the potential benefits that could be achieved. We offer the following to consider in evaluating a READY-certified consulting firm:
Design Phase – One of the key features of the READY model is an assessment of current state workflows and processes and development of road maps to future state best practices. The challenges are with change management as workflow processes and behavior changes are critical to realizing the potential benefits. MEDITECH provides standard content for most applications and provides best practice guidelines but does not provide best practice workflows. Best practice workflows are developed and provided by the certified consulting firms (not MEDITECH). Since the level of experience and research and development of these tools varies among certified firms, we recommend doing research up front. NHA has built over fifty (50) future state best practice workflows to help drive the transformational benefits that MEDITECH's 6.1 software enables. When comparing consulting companies, ask to see these tools and ask for references to confirm whether they were actually used or of value.

Project Planning – The consulting firm should bring a project management tool that incorporates not only the MEDITECH READY program features and software aspects of the project, but all other tasks and factors for success. NHA has developed (and offers free of charge to our clients) its project plans on a web-based project management tool. This tool is role-based with real-time status risk management reporting that provides full access to the project team and allows for total project transparency from team leaders to executives.

Build Phase – Ask the consulting firm if they have hands-on experience with MEDITECH's newest applications. NHA has been involved with virtually every early adopter and has worked closely with MEDITECH's implementation and development staff to understand the capabilities and features provided. NHA continues to work closely with MEDITECH on their product development, providing advanced knowledge of pending capabilities as well as some influence on their product development for our clients. Recent and current efforts include support for these products/capabilities: Ambulatory, Bed Management, Critical Care Nursing, Revenue Cycle Management and Surveillance.

Experience with 6.1 – As you compare firms, consider how some might present themselves as having 6.1 experience. Have they successfully gone live with any READY implementations? Has their involvement been limited to a single project, a single role on a project or even just Go-LIVE support? While there are a few capable consulting firm alternatives, NHA has more experience than all other companies combined. Due to the complexity surrounding these projects, you will be best served by an organization that has depth of experience and experienced READY talent. 6.1 is an evolving product so consider asking how each firm plans to stay on top of the changes while bringing this knowledge to you.

Methodologies and Tools – As you consider important differentiators, ask each firm how they develop and maintain their methodologies and tools. NHA has a dedicated internal project and quality management office solely focused on developing and maintaining all of our processes and tools as well as providing ongoing support for our teams in the field. In addition to best practice tools, as mentioned above, we have a detailed staffing model for identifying project resource requirements. MEDITECH's staffing guide provides a good starting point but we build on that and we work closely with you to carefully allocate resources by every role and each department. NHA's staffing assessment assists organizations in fine tuning and planning a transformative project strategy. We gladly work with prospective organizations to provide a 6.1 preparedness review and analysis using our proven tool.

Knowledge Exchange – Ask each firm how they plan to leverage experience and lessons from project to project. One of the key differentiators of NHA is our focus and ability to leverage our knowledge and experience. Twice a month, our project managers and engagement directors meet to review and compare how each 6.1 project is progressing, share lessons learned and share strategies, approaches and solutions so that every client benefits from our combined experience in a near real-time fashion. Further, NHA's project and quality management office conducts regular project reviews and audits to proactively identify and ensure each project is meeting target milestones and provides course correction guidance when needed.

As you consider your options, take the time to compare those with superior tools and successful results to those who may just be entering the space and may still be learning. The bottom line is not all certified firms (CF) are created equal. The designation CF does not suggest an equal level of competence or capability among certified firms.

Finally, we encourage you to check each firm's references and KLAS rankings and comments. We work hard to ensure our engagements are successful and that our clients are satisfied. As a result, NHA is currently and has consistently remained the highest rated consulting firm, not only in the MEDITECH community but in the entire industry, for all implementations, including READY.
CIO Advisory Services
Back to Top
"The future of healthcare IT is truly the convergence of technology innovation, electronic medical record, big data and mobility. It is happening at warp speed. The future will require a different type of leadership from CIOs, who will become catalysts for business change and transformation well beyond just leading the alignment of business objectives with technology." – SSi-SEARCH Whitepaper on the Chief Information Officer as Healthcare's New Million Dollar Person, April 2014.
Navin, Haffty & Associates salutes the women and men serving as Chief Information Officers within the MEDITECH community. We respect the vital role that a CIO plays in the on-going quest for viable high-quality patient care and have positioned professional services that are designed to complement in-place leaders with advisory services and operational resources.

Recognized as Best in KLAS for 2014, our firm employs more than 20 former CIOs. These experienced individuals have combined their perspectives to establish a portfolio of outcome-driven services specific to the MEDITECH market:

CIO Advisory Services – Our services provide the right mix of coaching, mentoring, development and support to assist newly positioned CIOs to be effective leaders. Whether an organization promotes from within or has hired a new information services leader from another organization, NHA's array of services can be calibrated to ensure the leader is well positioned to be successful, short or long term. Our focus is on providing knowledge and methods for effective IT service delivery and leadership growth. These services focusing on the tactical and strategic areas, can be provided as a combination of on-site and remote interaction and with varying discretion and confidentiality as needed. A CIO advisor provides access to NHA professional staff and informational resources, guides on strategy and planning, provides perspectives on emerging technologies, answers questions regarding industry drivers, assists with contract reviews and negotiation, maximizes the MEDITECH relationship, provides access to our methodologies and tools and facilitates discussions with peers within the MEDITECH CIO community.

Interim CIOs – By providing short-term coverage, NHA helps ensure that your IT strategy remains on track. Our interim CIO supports your IT operations, assists with the selection of your permanent CIO and helps implement changes to position your new CIO for success.

Contracted CIOs – We contract for multi-year commitments for organizations that struggle to recruit and retain the necessary IT leadership talent or where an employee model is not desirable.
NHA provides structure, tools and templates for IT management processes, long-term planning, budgeting, best practices for IT management and practical insights on how your peers at other MEDITECH hospitals are managing key issues. We optimize IT spending through experienced-based methods that foster efficient system procurement, service oriented IT organizational models and prudent IT staffing allocations. Our focus is on guiding clients to become self-sufficient as they strive to mitigate risk and avoid costly missteps.

Whether a complex integrated healthcare delivery system, a critical access hospital, or a physician practice, NHA would be pleased to discuss our CIO team's ability to ensure your success. Contact David LaFontaine, Vice President of Business Development at 508-948-6604 or dlafontaine@navinhaffty.com
Client Job Board
Back to Top
If you are interested in exploring new positions at other organizations visit the client job board section of our website. This is a free service of Navin, Haffty and Associates to the MEDITECH community. Currently, there are many postings from MEDITECH organizations. If you or a colleague are interested, take a look and see what's open.
If you would like to include your organization's listing on the Navin, Haffty & Associates website, please email Kelly Tracy at ktracy@navinhaffty.com (Please note that as this is a courtesy to the MEDITECH community, we will not accept postings from recruiting companies.)
NAVIN, HAFFTY & ASSOCIATES
Back to Top
Since our inception, Navin, Haffty & Associates' sole focus has been providing solutions that maximize the value of your MEDITECH EHR. The experience we have gained along the way has made us the largest and most respected MEDITECH consulting firm in North America. This exclusive focus has allowed us to provide clients with greater insight and understanding of MEDITECH's capabilities and the expertise to better deliver innovative tools, solutions, and strategies that improve your operational performance and enhance patient care quality. Our proven track record has positioned us to become MEDITECH's first and most experienced READY-certified consulting firm.
Our staff not only makes up the largest MEDITECH consulting team available, it is also comprised of the most experienced professionals in the industry. Our pool of 220+ consultants are some of the most seasoned professionals in the industry with an average 14 years of MEDITECH, 18 years of overall IT, 6 years of consulting, and 20 years of EHR/HCIS experience. By leveraging the combined expertise of our consulting team, Navin, Haffty & Associates stands second to none and is uniquely positioned to meet the needs of any organization utilizing the MEDITECH EHR. Our proven track record of success has led to Best in KLAS rankings for Planning and Assessment and Category Leader for Staff Augmentation.