May 2015
Thoughts from our President
Back to Top
In April I had the privilege of speaking to the Interbit Data user group. While formulating a few words I thought might be valuable to a group consisting mostly of middle management staff, I revisited my roots as a hospital CIO many years ago. As a first time CIO with the mission of turning around an underperforming department, I emphasized IT as the tool we use and customer service as the business we're in. It is easy to get distracted by daily pressures and lose sight of this fundamental truth.
I thought sharing some basics on this theme may be useful to some of our readers. The first step in improving customer satisfaction is understanding what customers think. Do you know who your customers are and what they think of IT? I have used a simple 8-10 question survey that can be completed in 3-5 minutes for this purpose.
We encourage direct communication as well as conducting brief surveys of executives, physicians and middle managers on a regular basis (every 3-6 months). This information can be used to identify areas of declining satisfaction while measuring the change over time.
Key questions should be:
Does IT deliver on its promises?
Does IT understand my business challenges and needs?
Is IT a partner, enabling my department (or me) to do a better job?
Does IT treat me and my staff with respect?
Do you understand IT's strategy for our hospital?
Do you understand IT's priorities for our hospital?
A few other related topics will be shared later in this issue and in next month's newsletter. We welcome suggestions from our readers on what to include in the future.

John Haffty, President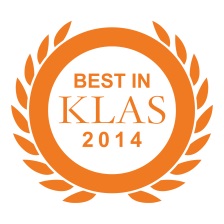 Navin, Haffty & Associates
2014 Best in KLAS Planning and Assessment
2014 Category Leader Staff Augmentation
MEDITECH: Interesting Items & Random Observations
Back to Top
Below are some interesting and noteworthy items regarding MEDITECH:
Anesthesia – Plans to develop an Anesthesia application have been announced by MEDITECH. They will be holding a session called "The Early Stages of Anesthesia" at the Nurse and Home Care Forum in June. It will include a review of their product strategy, a storyboard presentation walking through the life of an anesthesiologist and most importantly, a time for taking input as they launch development of this product.
Home Care Interface Development – MEDITECH will be holding a session on recent developments in Home Care-to-Hospital integration and third party interfaces. These developments are key steps to supporting initiatives as managing health across the continuum of care continues to dominate clinical strategies.
Critical Care Nursing – MEDITECH will be holding sessions on the 6.1 Critical Care Desktop and Flowsheet at both MUSE and the Nurse and Home Care Forum. This product improves documentation and workflow for a high intensity area. A demonstration provided a lot of excitement at the HIMSS conference in April. Alicia Brubaker, one of the CCU nurses from The Valley Hospital, Ridgewood, NJ, the first early adopter of the Critical Care Desktop, will be presenting at the Nurse and Home Care Forum.
MEDITECH's Acute Care EMR – The new Web EMR is getting a lot of attention for its potential to leapfrog anything in the HCIS market today. MEDITECH will be featuring it at their product gallery as well as conducting a specific session at MUSE.
A number of new MEDITECH signings are now listed on their recently updated website under the "news" section. This includes announcements on Avera Health, a 33 hospital, 200+ clinic organization and 680-bed Halifax Health in Daytona Beach, FL. Both will be migrating from C/S to the new Web Acute EMR. Avera has also signed on for Web Ambulatory and plans to roll this out to more than 900 physicians.
HIMSS: KLAS Awards
Back to Top
KLAS held their annual awards ceremony at last month's HIMSS conference. We were pleased to share a moment with our friends from MEDITECH who also received a "Best in KLAS" award for the Community HIS category. Below is a picture that captures this proud moment: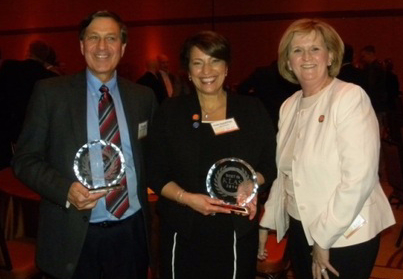 John Haffty, president of Navin, Haffty & Associates (NHA) alongside Hoda Sayed-Friel, executive vice president of MEDITECH and Helen Waters, vice president of sales and marketing for MEDITECH pose with their 2014 "Best in KLAS" awards.
Benefits Realized! Achievements from READY Implementations
Back to Top
READY is MEDITECH's new implementation approach. In January, we started a series of articles highlighting benefits realized by clients that have completed or are underway with READY projects. While some of these examples may have been accomplished independent of 6.x implementation, they underscore the value that READY brings.

This month we will focus on benefits realized by Revenue Cycle as well as Quality and Risk Management.
Revenue Cycle (including registration, scheduling, Authorization and Referral Management (ARM) and bed management):
Revised the workflow processes using enhanced capabilities. This resulted in a more efficient and complete registration process, faster payment of invoices and the reduction of follow-up issues.
Improved charge capture, particularly linking to emergency department and pharmacy charges.
Integrated clinical documentation with billing for rehab services. Improved turnaround time for payments as well as reduced rebilling efforts.
The bed management process was automated, allowing easy identification of available beds, speeding up admits from the emergency department and improving patient flow.
Improved capture of treatment authorization data at time of scheduling reducing denials.
The ARM worklist automated authorization status communications between scheduling, pre-registration and case management reducing errors and delays.
By replacing a third party patient scheduling system with MEDITECH, errors between scheduling and registration were eliminated, improving utilization of resources.

Quality Management (QM) and Risk Management:
Improved bed management functionality allowing case managers to increase productivity, improve patient flow from high acuity beds and acute care settings to lower acuity beds and discharge to lower cost care facilities.
New tools allow for online review of charts, eliminating the need to go to inpatient units, thereby increasing productivity and effectiveness of the QM department.
We hope this information provides inspiration for recognizing opportunities within your current system and demonstrates where a migration to 6.x could provide value to your hospital. If you have specific questions regarding areas of benefit, let us know.
Meaningful Use Alert: Proposed Rule Changes
Back to Top
In addition to the publication of the proposed Stage 3 criteria and requirements, CMS also published a proposed set of Meaningful Use (MU) changes for 2015. These were published in the Federal Register on April 15 and require a 60 day comment period before they may be finalized. This comment period will end June 15 with an expected final rule to be published in mid to late July.
In this proposed rule, CMS is considering changes to the requirements for Stages 1 and 2 of MU for 2015 through 2017. These changes will align with the proposed requirements and criteria for MU Stage 3 beginning in 2017. In addition to proposing changes to many of the Core and Menu criteria, CMS has proposed several major programmatic changes including the following.
This proposal would change the EHR reporting period for eligible hospitals and critical access hospitals from a period based on the federal fiscal year to one based on a calendar year. In effect, the 2015 year for hospitals would encompass 15 months, from October 1, 2014 to December 31, 2015.
For 2015 only, CMS is proposing to allow eligible providers, eligible hospitals and critical access hospitals to attest to a reporting period of any continuous 90 day period within the period beginning October 1, 2014 and ending December 31, 2015. This 90 day reporting period would apply to all providers and hospitals, regardless of which stage and year of attestation they are currently participating.
For 2016, a full calendar year (366 day) reporting period would be required for eligible providers, eligible hospitals and critical access hospitals at Stage 1 Year 2 and beyond. For eligible providers, hospitals and critical access hospitals entering Stage 1 Year 1 in 2016, a 90 day reporting period would be in effect.
For 2017 and beyond, regardless of stage and year, a full calendar year (365 day) reporting period would be required for eligible providers, eligible hospitals and critical access hospitals.
CMS is attempting to bring Stages 1 and 2 together into a single set of criteria and requirements. For Stage 1 sites, these proposed requirements for 2015 would impose an onerous burden on providers and hospitals. In order to accommodate Stage 1 attesters, CMS has attached numerous exemptions to these 2015 requirements in order to accommodate providers and hospitals currently meeting Stage 1.
Because some criteria are "redundant, duplicative or topped out," CMS is proposing to remove them from the Core and Menu criteria for the 2015 reporting period. For eligible providers, 12 criteria (or measures within a criterion) are being removed. For eligible hospitals and critical access hospitals, 13 criteria (or measures within a criterion) are being removed.
Only 8 criteria or measures will remain unchanged for eligible hospitals and critical access hospitals in 2015. The remaining criteria and measures will be modified in some manner for 2015.
Only 9 criteria or measures will remain unchanged for eligible providers in 2015. The remaining criteria and measures will be modified in some manner for 2015.
Possible changes to Clinical Quality Measures (CQM's) were not included in the Proposed Rule. CMS did note that CQM changes (if any) would be addressed at a later time.
Details concerning modifications to each criterion are included in the links below:
NHA Summary of Proposed Eligible Hospital and CAH Changes April 2015
NHA Summary of Proposed Eligible Provider Changes April 2015
MU Alert: OIG Performing Multi-Year MU Audits
Back to Top
The Department of Health and Human Services, through the Office of the Inspector General (OIG), is conducting multi-year Meaningful Use (MU) audits of physicians and hospitals. These audits include attestations back to 2011 for early adopters. Their purpose is to determine if Medicare and Medicaid incentive payments were properly made and to review CMS' response when incorrect payments were made. It has been reported that two major audits have been conducted by the OIG with one identifying overpayment by CMS and the second identifying underpayments to providers and hospitals.

These multi-year audits are one of several recent changes in MU auditing. For the first time, the OIG has become involved in conducting audits rather than all MU audits going through Figliozzi & Company. In addition to these audits covering multiple years, there has also been an indication that they may include a closer review of HIPAA security assessments and remediation plans. The third change we have noted includes prepayment audits, which have been ongoing since last year, with an estimated 5% to 10% of attesting providers and hospitals receiving audits before payment.

The major takeaway is the probability of audit is substantial and audit defense documentation for all years should be available for submission on short notice. If sites have attested for several years and they have not yet been audited, it would be wise to review the completeness and sufficiency of documentation, and perform a mock audit.
Hallmark of Effective Organizations & Projects
Back to Top
What distinguishes effective IT organizations from those that struggle? The hallmark of successful organizations is strong governance structures effectively setting priorities and aligning resources to meet those priorities. It seems virtually everything else flows, positively or negatively, from there. Priority decisions need to be communicated throughout the organization so everyone is aware they came from the leadership of the organization. It is important that the decisions reflect organizational goals as there will always be differing opinions on which project and investments are most important. Priorities should not be determined by IT organizations. Equally important is communicating to the organization which decisions were made and why.
Related to this are keys to project success. Every project should have:
a defined charter/statement of work with its purpose, timeline and urgency.
an accountable leader.
an oversight or governance process to address challenges and unplanned events that might impact its purpose, resources or timeline.
key measures for success that can be evaluated against the stated expectations.
We hope this is helpful or at least a good reminder.
2015 International MUSE Conference – See You There!
Back to Top
The 2015 International MUSE Conference will be held at Gaylord Opryland Resort & Convention Center in Nashville, TN from May 26-29. There is still time to register.
If you are planning to attend, please stop by our booth #610. If you'd like to meet with us, contact John Haffty, jhaffty@navinhaffty.com to schedule a time.
NHA is hosting two sessions featuring NHA clients who will share their experiences with implementing 6.x. While we believe our consultants have useful information to share, there is nothing better than speaking with colleagues. If you are considering migration to 6.x, you may want to attend.

Michael Martz, CIO, Meadville Medical Center, Meadville, PA
Steve Taylor, CIO, Anderson Regional Medical Center, Meridian, MS

MEDITECH will also be active at MUSE. The MEDITECH gallery will be open Wednesday – Friday showcasing some of their newest products. They are also conducting the following sessions:


Finally, Hoda Sayed-Friel, MEDITECH's executive vice president, will be the keynote speaker on Thursday morning.
MEDITECH Events
Back to Top
Nurse & Home Care Forum
MEDITECH's annual Nurse and Home Care Forum will be held June 17-19. This year will be the inaugural event for their new state-of-the-art conference center in Foxborough, MA. The keynote speaker will be Jane Englebright, Ph.D, chief nursing officer for HCA speaking on mobility and wearable technology for nurses. In addition to the networking and updates on MEDITECH development, there are a large number of presentations by hospital and home care users, sharing real world experiences and solutions. Register today.
Physician & CIO Forum
MEDITECH is combining its CIO/Technology and Physician Forums into one event this year. It will be held on November 5-6. Registration is now open. It's not too early to get this on the calendar for your key physicians, CMOs and CMIOs.
Upcoming…
Nurse and Home Care Forum // June 17-19, Foxborough, MA – Register
6.x Peer-to-Peer Information Exchange // September 16-17, Foxborough, MA – Register
Physician and CIO Forum // November 5-6, Foxborough, MA – Register
Client Job Board
Back to Top
If you are interested in exploring new positions at other organizations, visit the client job board section of our website. This is a free service of NHA to the MEDITECH community. Currently there are many postings from MEDITECH organizations. If you or a colleague are interested, check out what's open.
If you would like to include your organization's listing on the NHA website, please email Katie Kelly at kkelly@navinhaffty.com. (Please note that as this is a courtesy to the MEDITECH community, we will not accept postings from recruiting companies.)
NAVIN, HAFFTY & ASSOCIATES
Back to Top
Since our inception, Navin, Haffty & Associates' sole focus has been providing solutions that maximize the value of your MEDITECH EHR. The experience we have gained along the way has made us the largest and most respected MEDITECH consulting firm in North America. This exclusive focus has allowed us to provide clients with greater insight and understanding of MEDITECH's capabilities and the expertise to better deliver innovative tools, solutions, and strategies that improve your operational performance and enhance patient care quality. Our proven track record has positioned us to become MEDITECH's first and most experienced READY- certified consulting firm.
Our staff not only makes up the largest MEDITECH consulting team available, it is also comprised of the most experienced professionals in the industry. Our pool of 240+ consultants are some of the most seasoned professionals in the industry with an average 14 years of MEDITECH, 18 years of overall IT, 6 years of consulting, and 20 years of EHR/HCIS experience. By leveraging the combined expertise of our consulting team, Navin, Haffty & Associates stands second to none and is uniquely positioned to meet the needs of any organization utilizing the MEDITECH EHR. Our proven track record of success has led to Best in KLAS rankings for Planning and Assessment and Category Leader for Staff Augmentation.