March 2016
Thoughts From Our President
Back to Top
Population health was one of the dominant themes at this year's HIMSS conference. We have completed a review of MEDITECH's ability to support population health initiatives and believe the products being delivered with the 6.1 platform in 2016 will allow almost every healthcare organization in the industry to meet their goals.

As a maturing market for an evolving set of needs, several of the early third-party vendors are struggling financially and may not have the staying power to survive. While most vendors have defined or developed a stand-alone population health product, MEDITECH's approach is to embed the tools needed into current products and workflows, building on some of the EHR toolkits already delivered. We will share more information on this in the coming months, but in the meantime you can read more details on MEDITECH's Population Health Management solution in a PDF document on their website.
John Haffty, President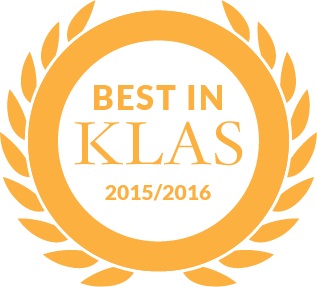 Navin, Haffty & Associates
2015/2016 Best in KLAS
HIT Enterprise Implementation Leadership
NHA's Service Excellence Program: Integrity
Back to Top
As part of Navin, Haffty & Associates' ongoing Service Excellence program, we shared a list of integrity principles with our staff. The principles come from Dr. Ralph James, author of The Integrity Chain, and although written for the construction industry, the principles apply to anyone striving for success. It was suggested that some of our readers might find them of value.

Below is the list of Dr. James' suggestions. Our comments follow in italics and communicate how we display integrity with everyone with whom we work:
1. Show up on time, every time. (If you determine that you will be late or cannot attend a previously scheduled commitment – even an informal meeting with your colleagues – let the organizer know as soon as possible.)
2. Write down things we have been requested to do, do them and let the person who made the request know it has been done. (Keep an updated list of tasks, e.g., meeting minutes, MEDITECH tasks, etc. This will allow everyone on the team to stay on the same page and know who is responsible for each step. Communicate progress and even a lack of progress, regularly.)
3. Keep all promises or explain the difficulty to the other party as soon as you are aware of your inability to keep the promise.

4. Focus on performance.

5. See if anything about our behavior causes inconsistency.

6. Communicate frequently with everyone to remove doubts about the integrity of the system caused by lack of information — be transparent. (Transparency is a good thing, but sometimes some discretion is equally as important. It may not be necessary to cc everyone on every communication, and there may be circumstances when Reply to All may not be your best option. Think about the receiver and the message while maintaining communication.)

7. Do not cover up bad news — provide a solution to the problem.

8. Fix processes rather than blame people. (Corrective actions fix problems. Remember that in the end we are all aiming for the same goal and need to work together as a team.)
9. Be disciplined.

10. Review policy statements to ensure they are consistent with actions.

11. Control the rate of change in the company culture so people do not lose confidence because of too much change too fast.

12. Maintain an open-door policy. (We always want the other person's door to be open so be sure to reciprocate and keep your door open as well.)

13. Work through channels rather than around channels to maintain the integrity of the reporting process.

14. Stick with people over the long haul.

15. Admit mistakes and use mistakes as an opportunity for improvement.
16. Insist on honesty in all dealings since our reputation, and the reputation of our business, are essential to success. Being too honest will not endear you to everyone all the time; however, they will know you are saying what's on your mind rather than being "politically correct."
KLAS Rankings
Back to Top
KLAS provides the best representation of how vendors are performing in the eyes of their clients in our industry. We hope this serves as a reminder to check KLAS rankings and commentary when considering a consulting company.

In every category, we scored above the industry average. Here are our rankings as of March 8:
2nd – HIT Enterprise Implementation Leadership (we were awarded "Best in KLAS" for this category for 2015/2016)
3rd – Technical Services (report writing, data repository & pro-ration rules services)
7th – IT Advisory Services (prior Planning & Assessment category where we were "Best in KLAS" for 2014)
11th – HIT Implementation Support and Staffing (for small READY implementations and backfill resources)
Quick Notes
Back to Top
In a recent interview, Helen Waters, Vice President for Sales and Marketing at MEDITECH spoke on what's happening with MEDITECH and where MEDITECH fits into the healthcare IT ecosystem. You can view the interview on EMR & HIPAA.
Park Place International has changed its name to CloudWave. Their website states: "Our new name reflects our commitment to architecting, building, and operating hybrid cloud solutions, for our healthcare customers, using a mix of on-premise technology with private and public cloud resources, to provide flexibility, efficiency, and cost savings."
MEDITECH has developed an informative and up-to-date 2-sheet PDF profile detailing where they stand in today's healthcare market and listing awards and recognition achieved for both themselves and their clients.
Interoperability Pledge
Back to Top
The following comes from Becker's Health IT and CIO Report.
Epic, Cerner, MEDITECH & dozens more make interoperability pledge at HIMSS16: 5 things to know

HHS Secretary Sylvia Burwell made a big announcement about interoperability during HIMSS16: the Interoperability Pledge. The new initiative presents healthcare providers with three core commitments, and already some of health IT's biggest names are joining the cause.

Here are five things to know.

1. The pledge puts forth three main principles:

Consumer access. Help consumers securely and easily access their electronic health information.
Transparency. Do not block electronic health information and help providers share individuals' health information with one another.
Standards. Implement national, federally recognized interoperability practices.


2. The pledge has already rallied support from 90 percent of the vendors providing the EHRs used in hospitals, health systems with locations in 46 states and more than a dozen provider, technology and consumer organizations.

3. Big names amongst the vendor pledges include Allscripts, athenahealth, Cerner, Epic, McKesson and MEDITECH.

4. There are also a number of big health systems on board. Geisinger Health System, based in Danville, Pa.; Hospital Corporation of America, based in Nashville, Tenn.; Kaiser Permanente, based in Oakland, Calif.; Partners Healthcare, based in Boston, and Tenet Healthcare, based in Dallas, are just a few names amongst many.

5. The American Medical Association, CHIME, Commonwell, HIMSS, The Sequoia Project and more are amongst the more than a dozen healthcare organizations signing up.
2016 International MUSE Conference
Back to Top
The 2016 International MUSE Conference will be held in Orlando, FL from May 31 through June 3. Navin, Haffty & Associates will exhibit again this year and we will be found at booth #516.
MEDITECH will also be there to demonstrate their strategies for optimizing your system and to share how 6.1 Web EHR will transform the way your organization delivers care. Visit MEDITECH's website for more details on MEDITECH session information.
If you are interested in more information, visit the 2016 International MUSE Conference website for event details and registration.
MEDITECH's Nurse & Home Care Forum
Back to Top
The Nurse & Home Care Forum will be held on June 15-17 at MEDITECH's Foxborough, MA location. As MEDITECH's largest event for nurse and home care administrators it is an exciting conference for sharing significant information. Below is a list of some of the topics which prove to be promising updates to the MEDITECH EHR:
Anesthesia
Business and Clinical Analytics
Care Plans
Condition Lists
Critical Care
Discharge Process
EHR Excellence Toolkits
IV Spreadsheet
Mobile Vital Sign Integration
Oncology
Perinatal Workflow (including Fetal Monitor Interface)
Population Health
Sepsis
Surveillance
Telehealth/Remote Monitoring
Web Mobile Nursing, including Phlebotomy and BMV (POC)

For more information, or to register visit MEDITECH's event page.
MEDITECH On the Road Events
Back to Top
MEDITECH will be holding "On the Road" events starting in April 2016. These are one day sessions focused on optimizing strategies for your current MEDITECH system and to see how their new 6.1 Web EHR is revolutionizing care. Some of the highlights will be:
Learning strategies for getting MORE from your current MEDITECH system.
Networking with others sharing similar goals.
Exploring how the 6.1 Web EHR transforms the way an organization delivers care.
April 12 – Chicago, IL | Registration Open
April 14 – Pittsburgh, PA | Registration Open
May 17 – Atlanta, GA | Registration Open
May 19 – Houston, TX | Registration Open
NHA is Hiring
Back to Top
To keep up with the demand from our clients, NHA continues to need excellent MEDITECH specialists. We have been named among the top 100 Best Places to Work in Healthcare by Modern Healthcare for the second consecutive year.
We believe there are significant advantages to being part of NHA. As part of the largest consulting company focused exclusively on serving the MEDITECH community, we enjoy an exceptional working relationship with MEDITECH, offer a collaborative work environment and treat each of our staff with respect. Our competitive compensation package includes exceptional medical insurance coverage as part of our extensive benefits as well as on-going education to maintain and develop skills and talent. Our employment approach and focus on long-term business relationships has led to an unparalleled record for consultant and client retention.
If you have interest in consulting and have solid MEDITECH experience with implementing one of their applications, please contact us. We have an outstanding mentoring program for new consultants and the best reputation in the MEDITECH community for training and development of our staff. We are the first company certified in the new MEDITECH READY implementation methodology, earning certification nearly two years prior to any other firm.
We are also interested in experienced consultants from other companies. As the largest company that works exclusively with MEDITECH, you would be supported as you continue to build your skills. In addition, our management approach has demonstrated a respect for our consultants and created a collegial atmosphere that encourages information sharing and support.
While we have a number of openings, at this time, we are particularly interested in candidates with strong project management experience (6.x preferred), 6.1 Revenue Cycle, HIM/SCA and 6.1 Ambulatory.
If you are interested please contact us at recruiting@navinhaffty.com or call us at 855-309-9334. See what positions are currently available by visiting the NHA Current Openings page.
Please note that at this time, we are only able to consider those able to travel up to 80% of the time. (Current employees of MEDITECH or of our clients cannot be considered.)
Client Job Board
Back to Top
If you are interested in exploring new positions at other organizations visit the client job board section of our website. This is a free service of NHA to the MEDITECH community. Currently, there are many postings from MEDITECH organizations. If you or a colleague are interested, take a look and see what's open.
If you would like to include your organization's listing on the NHA website, please email Kelly Tracy at ktracy@navinhaffty.com (Please note that as this is a courtesy to the MEDITECH community, we will not accept postings from recruiting companies.)