March 2015
Thoughts from our President
Back to Top
Why MEDITECH 6.1? I thought I would share some information from several of our clients who recently received approval for this investment. The following key justifications may help with evaluating whether it is time to migrate to 6.1.
A common, shared, enterprise-wide EHR; one patient, one record.
Consistent build and workflows based on MEDITECH's standard build and industry best practices. Optimization resulting in improved patient safety, productivity and facilitated reporting for third-party and government mandates.
Seamless integration across the spectrum of care including acute, ambulatory, long term care and home care.
State-of-the-art tools for clinician support including consistent patient data presentation and support for mobile users with secure, web-based system access from any device, location or browser.
Foundational support for population health management.
These benefits position a hospital or healthcare system for the challenges of new patient care delivery and business models.
If you would like to discuss establishing a business case for a 6.1 migration please contact me directly.
John Haffty, President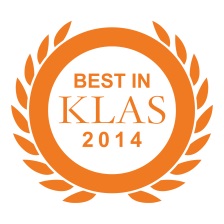 Navin, Haffty & Associates
2014 Best in KLAS Planning and Assessment
2014 Category Leader Staff Augmentation
Implementing MEDITECH's 6.1 Web Ambulatory Product
Back to Top
Web Ambulatory is MEDITECH's most exciting new product in years, yet it will present some challenges for hospital IT departments tasked with leading its implementation. Since we assist several of MEDITECH's Web Ambulatory early adopters, we want to share a few thoughts with those preparing for this effort.

Governance and Decision Making/Decision Sharing – This process is crucial. Unlike hospitals where there is usually a clear hierarchy of authority, physician relationships are far more complex. Implementation of Web Ambulatory will include employed physicians, independent physicians, owned and affiliated clinics and other business relationship models. While we are seeing a very positive response to the clinical aspects of the software, physician business office models vary widely and require significant investment in time and planning.

Business Office Structure – There may be the assumption that a centralized physician business office model would be the most efficient set-up since Web Ambulatory supports it. However, physician compensation is a highly sensitive and often under-appreciated aspect of these projects. Employed physicians may receive bonus payments or adjustments to their compensation based on a variety of widely ranging factors from volume of patients to quality measures achieved. At one children's hospital there is a bonus based on immunizations per patient by physician requiring tracking and reporting outside of normal business office practices. An additional challenge is addressing centralized business offices accounting for revenue and collection of payments by physician. This doesn't even begin to address the newest ACO and Shared Savings models that are well served with MEDITECH 6.1 Revenue Cycle and Web Ambulatory products, but require a different management and reporting than is common to hospital business offices.

Physician Office and Clinic Workflows – As part of the READY implementation approach MEDITECH is providing Best Practice workflows for Web Ambulatory. This presents the opportunity to optimize current physician offices and clinics but involves staff that do not always work for the hospital requiring a more collaborative and educational approach. Physician office staff are often loyal to their physicians and can be protective of current workflows.

The above issues have little to do with software but everything to do with the success of your project. In our experience six months is the time needed to address governance and evaluate business operation models before the software arrives. This time will allow you to establish trust, frame options, educate key stakeholders and create a project charter and project plan to reflect decisions made.

MEDITECH's 6.1 Web Ambulatory presents a tremendous opportunity to improve physician satisfaction and prepare your organization for the new healthcare contracts and delivery models we are seeing. We will continue to share information on these projects as they progress.
The Value of READY
Back to Top
The focus on physician engagement and personalized training has caused us to tout the value of MEDITECH's new READY implementation methodology. The following comment came from one of our clients going LIVE with 6.1 on April 1:
"I just wanted to report the positive feedback I received from a physician at our appointment today. She stated that she found the system very intuitive and user friendly. She says she found our system a much easier system than "across the street" and that she was impressed with the education process as getting physician education "across the street" is a complicated process.
She also told me that she was very impressed with the setup and organization for Physician training. She said that whoever came up with the process should be rewarded."

Navin, Haffty & Associates (NHA) has tailored a methodology for physician training and engagement to leverage the full capabilities of 6.1. We have also developed a set of unique tools and training materials to enhance MEDITECH's standard tools. We continue to see many benefits from READY and welcome any questions you may have.
Benefits Realized! Achievements from READY Implementations
Back to Top
READY is MEDITECH's new implementation approach. In January, we started a series of articles highlighting benefits realized by clients that have completed or are underway with READY projects. While some of these examples may have been accomplished independent of 6.x implementation, they underscore the value READY brings.

In prior months, we shared successes from the Emergency Department, Lab Services, Nursing/Patient Care Services and Pharmacy. This month we will focus on benefits realized for Physicians and the Operating Room/Surgery department.

Physicians
Significant increase in usage of order sets and personalized physician documentation templates have reduced documentation time, increased physician adoption and allowed the hospital to meet and/or exceed its Meaningful Use (MU) requirements for many core measures.
Increased standardization of care through increased use of approved order sets containing core measures, resulting in corresponding decreased use of unapproved order sets.
Documenting home medications in the EHR facilitates improved and faster reconciliation of medication at time of admission and discharge.
Replacing a hybrid chart (e-documentation, paper and dictation) significantly reduced the time searching for patient information.

Surgery
Replacing a stand-alone surgery application with MEDITECH has provided significant integration benefits:

Time saving for coordinating pre-operative preparations
Increased charge capture
Improved inventory control, resulting in lower inventory levels and direct savings
Reduced nursing time for preference card maintenance and more accurate/timely linkage with material management
Improved and more timely management reporting

Added peri-operative areas to EHR including pre-op, intra-op and PACU
Resolved historic process breakdowns between the Operating Room and Materials Management, improving communication and understanding, eliminating material costs and reducing inventory.
We hope this information provides inspiration for recognizing opportunities within your current system and demonstrates where a migration to 6.x could provide value to your hospital. We will continue to share more details in various categories over the next few months. If you have specific questions regarding areas of benefit, let us know.
Announcement: MEDITECH Collaborates with FDB & Micromedex
Back to Top
Recently, MEDITECH announced significant collaboration with First Databank (FDB) and Micromedex. For those using one of these vendors, you may find the following of interest.
MEDITECH and First Databank have worked collaboratively on the FDB Cloud Connector. MEDITECH 5.x customers can now request FDB's in-depth drug knowledge when needed, no hosting or updating necessary. Streamline development without losing flexibility using high performing and highly available web services hosted by FDB in the cloud.
Visit Business Wire for more details.
MEDITECH also announced that it will provide integrated access to Micromedex Patient Education Content and Consumer Health Resources through its EHR systems. Click here to read more.
MEDITECH EHR: Supporting Outpatient Rehab Services
Back to Top
Recently one of our clients asked us about using MEDITECH for rehab services in an outpatient setting. Their department wanted to purchase a stand-alone product and the CIO was concerned about integration challenges, risks for clinicians moving away from a common EHR as well as the additional cost.

Working with MEDITECH, we were able to identify a number of hospitals that had success using either PCS or ITS to achieve acceptance and satisfaction from users. The majority of contacted sites preferred using PCS. They have used it to generate and electronically capture charges and documentation into the electronic medical record.

At a MEDITECH optimization event last year one hospital presented on how their therapists document in PCS to generate the charges and shared queries sending the data to PDoc. Users then review and file the information in PDoc which sends data to a fax or e-sign queue.

Another customer built queries into the PCS assessment replacing unit queries so therapists would not need to calculate the units on their own. These were done based on time and MEDITECH has provided us this information. Billing codes were also entered during the documentation and sent to billing for charge information. Modifiers and claim checks were created in billing to help streamline the process.

If you would like more information on this, contact your MEDITECH HCIS coordinator or contact us at info@navinhaffty.com.
Patient Safety Roundtable Webinar
Back to Top
Patient Safety Awareness Week kicks off today, Monday March 9 – join MEDITECH Physician, Development, and Client Services Patient Safety Review Board (PSRB) members in a peer-to-peer discussion style webinar.
Topics include MEDITECH's latest patient safety initiatives, your organization's process for priority event management, and ideas and plans for Patient Safety week.
Take a moment to fill out this short form to provide MEDITECH with some insight into your organization to assist them in facilitating discussion at these Patient Safety Roundtables.
MEDITECH's Nurse and Home Care Forum
Back to Top
Be sure to hold June 17-19 for MEDITECH's annual Nurse and Home Care Forum. This will be the inaugural event at their new state of the art conference center in Foxborough, MA. More information to come!
MEDITECH's Annual Events Calendar
Back to Top
In addition to the Nurse and Home Care Forum, MEDITECH is in the process of finalizing dates for their annual 6.x Peer-to-Peer Information Exchange, CIO Technology and Physician Forums. These will each be scheduled for the fall of 2015. We will update you as we receive more detail.
Planning for HIMSS 2015
Back to Top
If you are planning to attend HIMSS in Chicago on April 12-16, NHA will be present once again. Although we will not have a booth, our senior leadership team as well as other directors will be present. If you are interested in meeting with us during this conference, please email John Haffty, jhaffty@navinhaffty.com to schedule a time.

MEDITECH will also be present at HIMSS. Visit them at booth #6315, where you can see their groundbreaking web-based solutions, the 6.1 platform, their mobile solutions in action at the Mobility Bar, as well as meet some of the members of MEDITECH's growing Physician Team.

MEDITECH will be hosting its annual Customer Appreciation Event on Tuesday, April 14, from 7-10 p.m. at Moe's Cantina. This year's theme is the Roaring Twenties. Register here and get your fedora and flapper dresses ready.
MUSE International Conference: Early Bird Registration Deadline Extended
Back to Top
The annual MUSE International Conference will be held at Gaylord Opryland Resort & Convention Center in Nashville, TN from May 26 – 29. Registration is now open. Note that the early bird deadline to get the lowest registration fee has been extended to March 14.

Hoda Sayed-Friel, MEDITECH's executive vice president, will be the keynote speaker on Thursday morning of this conference. We will share more details as the event approaches.
Client Job Board
Back to Top
If you are interested in exploring new positions at other organizations visit the client job board section of our website. This is a free service of Navin, Haffty & Associates to the MEDITECH community. Currently, there are many postings from MEDITECH organizations. If you or a colleague are interested, take a look and see what's open.
If you would like to include your organization's listing on the Navin, Haffty & Associates website, please email Kelly Tracy at ktracy@navinhaffty.com (Please note that as this is a courtesy to the MEDITECH community, we will not accept postings from recruiting companies.)
NAVIN, HAFFTY & ASSOCIATES
Back to Top
Since our inception, Navin, Haffty & Associates' sole focus has been providing solutions that maximize the value of your MEDITECH EHR. The experience we have gained along the way has made us the largest and most respected MEDITECH consulting firm in North America. This exclusive focus has allowed us to provide clients with greater insight and understanding of MEDITECH's capabilities and the expertise to better deliver innovative tools, solutions, and strategies that improve your operational performance and enhance patient care quality. Our proven track record has positioned us to become MEDITECH's first and most experienced READY- certified consulting firm.
Our staff not only makes up the largest MEDITECH consulting team available, it is also comprised of the most experienced professionals in the industry. Our pool of 240+ consultants are some of the most seasoned professionals in the industry with an average 14 years of MEDITECH, 18 years of overall IT, 6 years of consulting, and 20 years of EHR/HCIS experience. By leveraging the combined expertise of our consulting team, Navin, Haffty & Associates stands second to none and is uniquely positioned to meet the needs of any organization utilizing the MEDITECH EHR. Our proven track record of success has led to Best in KLAS rankings for Planning and Assessment and Category Leader for Staff Augmentation.