June 2017
Thoughts From Our President
Back to Top
Dr. Donald Berwick is one of the most respected leaders in our industry. As founder of the Institute for Healthcare Improvement, as well as former CMS administrator, he has championed patient safety and often shares ideas that have challenged mainstream thinking. Below are his thoughts on five missteps, as shared from the 19th Annual National Patient Safety Foundation Congress, held in May, as reported by Becker's Healthcare: 
Money has become more important than safety. Dr. Berwick noted most hospital board members and executives are increasingly concerned about cost reduction and staying in the black than they are about patient safety. Indeed, quality and safety didn't even crack the top five concerns of hospital executives who participated in the Advisory Board Company's 2017 Annual Health Care CEO Survey.
Believing the illusion that the industry has achieved patient safety. "We will never be done," Dr. Berwick said of the patient safety movement. He called the concept of looking at safety improvement as a box-checking exercise with a defined ending point "lethal" to future patients.
Thinking incentives will improve safety. Nearly all healthcare workers come to work every day wanting to well, Dr. Berwick said. That makes the incentive theory to patient safety improvement ineffective; as incentives come from the place of believing workers want to do something wrong and they need an incentive to do the right thing. "Until we…give up [the] incentive orientation to safety, we won't make progress."
Too many metrics. Healthcare has "glutted [itself] with metrics," Dr. Berwick said to applause from the audience. "We have got to go on a diet." He stressed the importance of identifying the most critical metrics and measuring just those, and not more.
Separating the quality and safety movements. At some point in the movement, quality and safety got placed in separate dimensions, which Dr. Berwick called "a mistake." He applauded the merger between the Institute for Patient Safety and NPSF as a way of reuniting the two endeavors. "We don't have resources to waste on tribalism," he said.
I hope you find these thoughts refreshing.
Click here to read the full Becker's Healthcare article.
John Haffty – President
Navin, Haffty & Associates
A Few Comments from Recent 6.1 Projects
Back to Top
Through June of this year, NHA has already led or supported eleven hospitals that have successfully gone LIVE with MEDITECH 6.1. Seven of these hospitals have also brought LIVE Web Ambulatory. Here are a few of the many unsolicited comments we have received. We thought these might be of interest to those of you in the process of migrating to 6.1 or considering it.
"Microbiology loves their paperless system" – microbiology supervisor
"My admission is faster but I am getting all the same information" – med/surg nurse
"Sharing electronic information with ED and Surgery is great" – med/surg nurse
"Our test worked in MEDITECH!!!! This is AWESOME news!!! We can resolve some issues in MEDITECH instead of bridge routines!!!" – patient accounting supervisor
"Already some successes are noted. In one of our off-site primary care clinics blood samples were sent out by courier at 0900 this morning. By 1130 there were results showing up in the patients' charts and queued up for physicians to review – a big victory" – hospital CEO
Update on MEDITECH Patient Registries
Back to Top
Patient Registries are one of the more exciting features with MEDITECH's 6.1 Web Ambulatory product. We have assisted two hospitals with implementing Patient Registries, and there are many others in process. These early adopters have had a very positive response. The initial benefit from the first few months has been to eliminate the many different reports and sources for patient data needed by care coordinators. Both clients have been LIVE less than six months, but the efficiency gains for each hospital's staff have been impressive. Early indications are that health maintenance compliance for their managed populations has increased.
We will continue to share updates on Patient Registries, as these are critical components of any population health strategy.
Web Ambulatory – Lessons Learned
Back to Top
Usually our lessons learned focus on software and workflow, but as we have been engaged on many of the Web Ambulatory projects, a few lessons have jumped out at us:
Be sure to thoroughly investigate and test your device options. There are differences in user experience and performance between various devices. As mobile devices rely on wireless, consider whether your existing infrastructure will suffice. Also, be sure that the devices being deployed are within the MEDITECH hardware specifications.
As with other MEDITECH modules, certain parameter settings can impact performance. For example, there is a maximum number of open charts setting that, if set too high, can impact response time based on site-specific variables.Your NHA consultant and MEDITECH implementation team can work with you to set appropriate thresholds or settings for your healthcare organization.
If you have any questions, contact NHA or your MEDITECH implementation specialist.
NHA Provides Analytics Services for the MEDITECH Community
Back to Top
If you are looking for assistance in developing an analytics strategy for your hospital, or need help implementing a strategy, please consider NHA. We are the most capable consulting firm in assisting MEDITECH hospitals in defining and executing data analytics strategies. Our experience and talent range from report writing using the standard MEDITECH tools (NPR, RD and DR) to developing reporting processes and tools and integrating other vendor data to support your population health needs.
We have approximately 25 programmers with experience developing in the major industry tools (MS SSRS, PowerBI, Qlik, Tableau, etc.) and another 15 consultants with deep expertise developing reports in the standard MEDITECH tools.
Specific services include:
Analytics Strategy and Roadmap Development

Data Strategy Execution Project Management

Analytics Team and Process Establishment (including data governance, data dictionaries and analytics team governance)

Data and Reporting Requirements Definition

Data Warehouse Development and Data Integration ETLs

MEDITECH and Non-MEDITECH Custom Data Modelling Support

Dashboard and Report Development in MEDITECH BCA (and other major industry BI tools)

Training on:

SQL

ETL development and maintenance

Major industry tools, including MEDITECH BCA
Here are recent examples of our custom data warehouse, ETL and reporting development services: 
For a Client/Server hospital – NHA was retained to develop a custom solution to integrate MEDITECH and Epic data, as well as insurance eligibility data, to support California PRIME regulatory reporting. Specifically, NHA:

Developed ETLs and a SQL data warehouse that integrated MEDITECH inpatient data from DR with Epic ambulatory data from a Clarity database

Created a patient matching algorithm and eMPI

Built a script that integrated insurance eligibility data and checked patient insurance eligibility on a monthly basis

Developed SQL-based reports for PRIME reporting

For a 6.0 hospital – NHA was brought in to support data modelling of MEDITECH and Greenway and develop dashboards in a major industry BI tool. NHA helped the site define the most efficient reporting process and tools based on the organization's goals. NHA built a SQL-based data warehouse and ETLs to integrate MEDITECH and Greenway data and developed a set of SQL-based reports. The organization found that maintaining data models, ETLs and dashboards to support a major industry BI tool was too resource-intensive for their facility. NHA:

Proposed a SQL-based data integration and reporting approach, which required much less effort to maintain

Developed ETLs and a SQL data warehouse, which integrated MEDITECH inpatient data from DR and Greenway outpatient data

Developed custom SQL-based reports to meet the organization's needs
NHA Selected as One of Modern Healthcare's 2017 Best Places to Work in Healthcare
Back to Top
We are proud to announce we have been named to Modern Healthcare's Best Places to Work in Healthcare for the fourth consecutive year. Modern Healthcare recognizes outstanding employers in the healthcare industry on a national level based on anonymous employee feedback. This recognition further underscores NHA's commitment to workplace excellence and is a testament to the hard work of the incredible members of the NHA team.
According to president and CEO John Haffty, "Throughout the years, we have strived to recognize the direct correlation between the success of a company and its extraordinary workforce. We work hard to recognize that our ability to deliver great services is dependent on providing our employees with a great place to work. We are proud to have been named to this prestigious list in each year we have participated."
The Best Places to Work in Healthcare list is currently published in non-ranked alphabetical order on Modern Healthcare's website. Specific rankings will be announced by Modern Healthcare in September.
Client Testimonial and KLAS Comments
Back to Top
We are pleased to share the following comments recently received from our clients:
Client Testimonial
"We are on our final day of Go-LIVE support and I am happy to say that thanks to your team this has been a very smooth implementation. Because the number of support calls dropped so dramatically, we began cutting back our support at the beginning of the second week and moved resources to correct issues and address new requests. We appreciate Navin, Haffty's guidance and support and would highly recommend your services to others. You have a great team."
– Doug Thompson, Assistant IS Director/Project Manager, Upson Regional Medical Center, Thomaston, Georgia
KLAS Comments – April and May 2017
"Navin, Haffty has a depth of expertise on MEDITECH, and that expertise is strategic, both at a high level and in the weeds." – Executive
"Navin, Haffty & Associates is an excellent firm. They were the reason for the success of our implementation. There was excellent communication from top to bottom." – Executive
"The consultants have superior knowledge and dedication to making the project a success. They took complete ownership in the project as if the hospital were their own. They were always on time and worked hard toward the goals." – Executive
"We landed on Navin, Haffty, and not for the price because they weren't the cheapest. I was impressed with the companies they had already helped migrate to the next version of the system we are on. I was also impressed with the relationship they have with MEDITECH. Navin, Haffty demonstrated a lot of expertise that we benefited from. We only had a handful of analysts and a project manager from them. The project manager led the project, and the analysts were sort of subject-matter experts in certain areas. I think our contract with Navin, Haffty was worth the money we invested around project management." – Executive
Please note selected commentaries may not represent the whole of provider sentiment related to this product or service. For a complete view, visit KLASresearch.com.
Observations from the 2017 International MUSE Conference
Back to Top
We want to share a few thoughts from this year's MUSE conference.
We would like to thank Halifax Health, Daytona Beach, Florida and Hilo Medical Center, Hilo, Hawaii for allowing us to participate with their staff on their presentations. These presentations have been made available on the MUSE Resource Center website.
Congrats to Kris Wilson of Hilo Medical Center, as her presentation, 6.15 Revenue Cycle Implementation and Recovery–Five Things You Should Know, was selected as the winner of the IEEE content. 
If you didn't attend, you owe it to yourself to view the keynote presentation by Hoda Sayed-Friel of MEDITECH. This keynote presentation will be made available soon on the MUSE Resource Center.
Thank you to all who stopped by our booth to say hello. We appreciated the many comments on the excellent service you received from our consultants. This feedback means a lot and the recognition has been relayed back to both the consultants as well as our leadership team, amplifying the value of your comments.
Special kudos to the many MUSE volunteers who put in tremendous effort to support the mission of MUSE to enable sharing and knowledge transfer to its members. On top of demanding positions at their hospitals, these folks put in plenty of extra hours for the betterment of the MEDITECH community. If you benefit from MUSE, remember to thank these dedicated volunteers.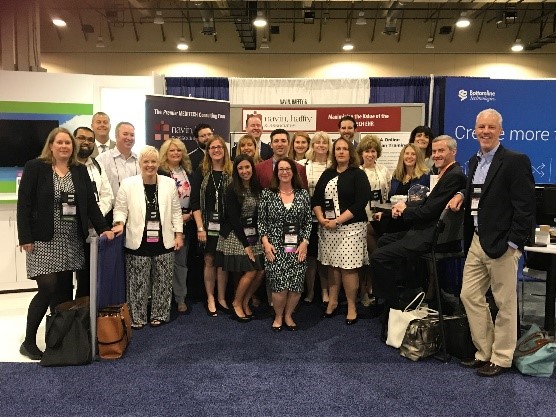 NHA and MEDITECH kicking off the 2017 International MUSE Conference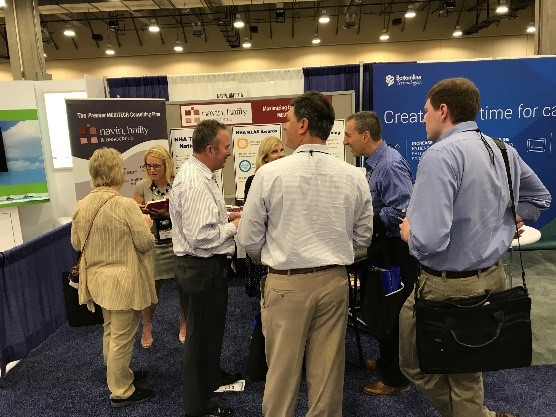 MUSE attendees visiting the NHA booth
Quick Notes
Back to Top
"How to recruit your next generation of health IT professional" by Rich Temple, CIO, Deborah Heart and Lung Center, Browns Mills, New Jersey. This blog post describes a creative approach to building IT staff.
Congratulations to our friends at Upson Regional Medical Center, Thomaston, Georgia with their successful MAGIC to 6.1 migration on May 1. This project included implementation of the MEDITECH Web Ambulatory product. NHA is proud to have been Upson's READY consulting partner.
Congratulations to our friends at Salinas Valley Memorial Hospital, Salinas, California with their successful 6.0 to 6.1 migration on May 1. NHA is proud to be a long-time partner with Salinas Valley and pleased to have been the consulting partner for this project.
Congratulations to our friends at West Park Hospital, Cody, Wyoming, as they went LIVE on May 1 with 6.1 for the hospital and Web Ambulatory for their physicians and clinics. NHA is proud to have been the consulting partner for this project.
NHA is pleased to announce that we have been selected by the following organizations for their upcoming projects:

Beverly Hospital, Montebello, California – Nursing care plan adoption and optimization
Broadlawns Medical Center, Des Moines, Iowa – Guidance and oversight of the build and implementation of 6.1 Web Ambulatory
Campbell County Memorial Hospital, Gillette, Wyoming – 6.1 Web Ambulatory implementation
Douglas County Health Center, Omaha, Nebraska – Implementation of MEDITECH Client/Server for a behavioral health hospital and clinics
Meadows Regional Medical Center, Vidalia, Georgia – HIM support for the 6.1 implementation
Lake Regional Health System, Osage Beach, Missouri – Post-LIVE 6.1 Web Ambulatory training and support

We wanted to share some interesting developments on MEDITECH's increased use of cloud and web-based speech recognition from Nuance and M*Modal. Both programs are now embedded in MEDITECH's Web EHR (6.15 and 6.16). To learn more on either program, see the links below for recently released functionality briefs:
NHA Employees Participate in March of Dimes March for Babies
Back to Top
On April 30, NHA employees participated in the March of Dimes March for Babies walk in Worcester, Massachusetts. The mission of March of Dimes March for Babies is to improve the health of babies by preventing birth defects, premature birth and infant mortality. The money raised by March of Dimes is used to fund lifesaving research and support programs.
The March for Babies has become an annual tradition for employees local to NHA's corporate office. This year, about 20 employees participated with their family members (and pets)! In addition to a great show of support on the day of the walk, our employees surpassed the fundraising goal and raised $17,255 for this worthy cause.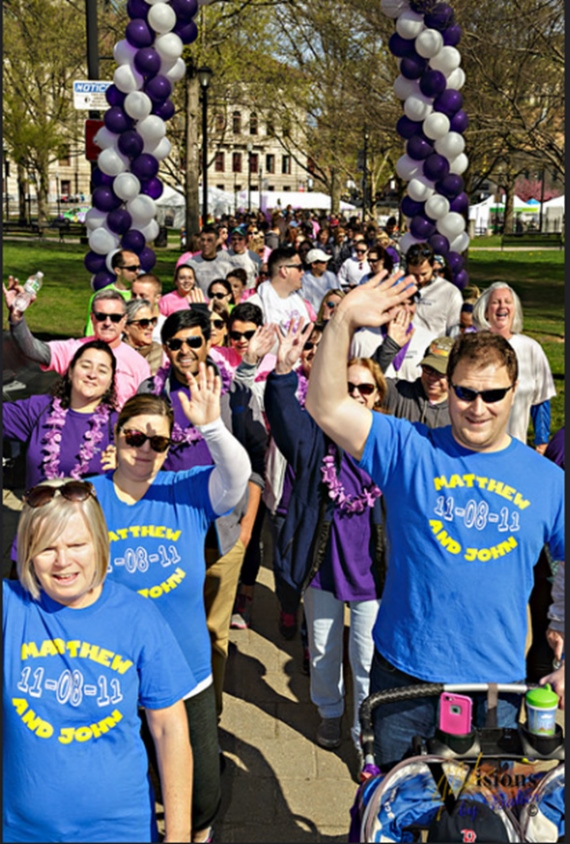 To find a March for Babies in your area, visit March of Dimes.
Calendar of Events
Back to Top
Upcoming MEDITECH Webinars (listed in Eastern Time)
The Physician Experience
Tuesday, June 13, 2 PM
A practicing physician will show you how MEDITECH's EHR guides patients throughout the continuum, highlighting tool sets that enable seamless medication reconciliation while using best practices and evidence-based protocols for both ordering and documentation.
Optimize Your Revenue Cycle Management
Thursday, June 15, 2 PM
Interested in preventing denials and enhancing revenue for your organization? See MEDITECH's 6.1 Administrative and Patient Accounting solutions in action to learn how to proactively verify insurance, automatically capture charges, and enable billing in a timely manner.
10 Tips to Improve Your Cybersecurity
Thursday, June 22, 11 AM
Learn practical steps you can apply now to help take your organization's information security to the next level. Based on industry research and best practices, this webinar will cover ten cyber security tips.
Quality and Surveillance
Thursday, June 22, 2 PM
This high-level demonstration will show you how MEDITECH's Quality and Surveillance solution monitors risk and quality throughout your organization — leading to enhanced patient safety and positive patient outcomes.
Business and Clinical Analytics
Wednesday, June 28, 2 PM
This webinar will provide an in-depth look at how MEDITECH's Business and Clinical Analytics (BCA) can help you monitor your organization's overall performance and make more informed decisions in the C-suite.
Surgical Services
Thursday, June 29, 2 PM
See how the enhancements in MEDITECH 6.1 Surgical Services (SUR) will empower your organization to better manage surgery workflows and patient care, for increased productivity and revenue.
Doctors' Hours Webinars
The goal of the Doctors' Hours series is to provide an opportunity for physician leaders in the MEDITECH community to meet and interact with members of MEDITECH's physician consultant team. During these hour-long webinar sessions, attendees will learn how to optimize their use of the MEDITECH system through physician instruction, recommendations on best practices, and lessons learned from your peers. The one-hour format also includes an opportunity, at the end of the session, for attendees to ask questions and participate in discussion with the physician presenter.
Communication Strategies for Physician Leaders in EHR Implementations
Presented by William Gustin, MD – June 19, 12 PM
Organizing Physician Advisory & Workgroup Meetings in EHR Implementations
Presented by K. Nadeem Ahmed, MD – June 26, 12 PM
Other MEDITECH Events
2017 Nurse and Home Care Forum
June 14 – 16
Foxborough, MA
Reserve your seat at each of the four education sessions at the forum. And if you haven't yet signed up for the event, be sure to register!
2017 Revenue Cycle Summit
June 20 – 21
Foxborough, MA
See how MEDITECH can help optimize your revenue cycle and assist you in meeting today's challenges.
2017 Optimizing Supply Chain Seminar
June 22
Foxborough, MA
Are you using your Supply Chain solution to its fullest? This seminar will help you optimize your system by exploring underutilized tools within Materials Management (MM), as well as future enhancements
2017 Physician and CIO Forum
The 2017 Physician and CIO Forum will be held October 18 – 19 at MEDITECH's Foxborough, Massachusetts facility. Click above for more information or to register.
Client Job Board
Back to Top
If you are interested in exploring new positions at other organizations, visit the client job board section of our website. This is a free service of NHA to the MEDITECH community. Currently, there are many postings from MEDITECH organizations. If you or a colleague are interested, check out what's open.
If you would like to include your organization's listing on the NHA website, please email Katie Kelly at kkelly@navinhaffty.com. Please note that as this is a courtesy to the MEDITECH community, we will not accept postings from recruiting companies.