June 2015
Thoughts From Our President
Back to Top
May's 2015 International MUSE Conference was once again an excellent opportunity to meet with clients, colleagues and friends to share ideas and experiences. MEDITECH had a significant presence at the conference. Hoda Sayed-Friel's keynote address provided an exciting preview of their future direction, including several surprises and major announcements. Takeaways from the keynote are included in the article below.
I want to thank everyone who stopped by our booth. As always it was great to see so many of you. My thanks and congratulations go out to the many volunteers that make MUSE such a unique organization as well to the excellent professional staff that supports MUSE year-round. Special thanks go to several of our clients who participated with us in the following presentations:
"Critical Access Hospitals Can Survive a MAGIC to 6.x Migration!"
Judy Schmieder, RN and Director of Clinical Informatics, Ste. Genevieve County Memorial Hospital, Ste. Genevieve, MO

"Are You Ready for READY?"
Michael Martz, CIO, Meadville Medical Center, Meadville, PA
Steve Taylor, CIO, Anderson Regional Medical Center, Meridian, MS

As a member of MUSE you can view these as well as all other presentations.
See you in Orlando for the 2016 International MUSE Conference.
John Haffty, President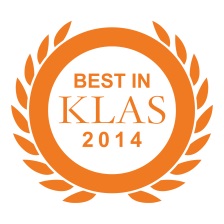 Navin, Haffty & Associates
2014 Best in KLAS Planning and Assessment
2014 Category Leader Staff Augmentation
MUSE: Keynote Address Highlights
Back to Top
Below are the major takeaways from Hoda Sayed-Friel's keynote and other MEDITECH presentations given at MUSE. They provide a future vision for MEDITECH hospitals that will meet or exceed any other electronic health record (EHR) vendor in the industry.
Interoperability Initiatives

MEDITECH will open its Patient Portal via bi-directional other vendor (OV) access and links using the emerging industry standards. This could eliminate the issue of patients needing to access multiple portals to find their data.
They became a member of CommonWell Health Alliance, the largest group of EHR vendors working to share data across their different products.
They became a member of the Argonaut Project which addresses recommendations from a task force of the HIT Standards and Policy Committees with the goal of developing a first-generation API and Core Data Services specification. This will enable expanded information sharing for EHRs, documents and other health information based on the Fast Healthcare Interoperability Resources (FHIR) specification.
Product Development Plans

Ambulatory (6.1 only) – Delivered to multiple early adopters. First site scheduled to Go-LIVE July 1.
Critical Care Nursing (6.1 only) – Including a real-time online flowsheet. Went LIVE at its first site June 1.
Labor and Delivery (6.1 only) – With an interface to fetal monitors in development.
Anesthesia (6.1 only) – In specification stage.
Oncology (all platforms) – Rewritten and delivered to a number of sites with a single view of all patient data.
Population Health Management Tools (6.1 only) – Under development but will include:

Surveillance with concurrent tracking and real-time alerts pushed based on roles.
Standard content to include surveillance criteria for all 29 Meaningful Use (MU) Stage 2 measures.
Ambulatory disease registries for chronic disease management.
Longitudinal care plans.

Business and Clinical Analytics (all platforms) – Sits on top of Data Repository. Currently being delivered to early adopters.
Strategic Goals for Your Organization
Back to Top
One of the benefits of MUSE is the ability to learn from other MEDITECH hospitals. At this year's International MUSE conference, Ed Ricks, CIO at Beaufort Memorial Hospital, Beaufort, SC, shared his vision for the hospital and why they chose to go with 6.1. In his presentation, he provides their strategic goals and how IT is aligned to achieve these goals. For anyone looking for guidance on creating a strategic plan and vision for their hospital, Ed gave us permission to share the presentation.
Here is an overview:
Care continuum and population health strategies

Build a single EHR vendor platform
Building blocks for population health platform

Market growth strategies

Nimbly react to growth opportunities

Operational excellence

Remove complexity from best-of-breed EHR platform

Physician alignment strategies

Combine physician practice network EHR with acute EHR

Clinical affiliation strategies

Health Information Exchange and clinical information sharing
Update: KLAS
Back to Top
Navin, Haffty & Associates (NHA) actively participates with KLAS standard surveys and special studies related to MEDITECH. Our approach is to be completely transparent, sharing our entire client list each quarter. Every year as we serve more clients we gain more independent and anonymous feedback. This allows us to continually monitor and measure our quality of service and the level of client satisfaction. We encourage you to read client comments on our website or visit the KLAS website directly.

In our opinion KLAS remains the most accurate and objective source for information on vendors in our industry. Rules prohibit us from sharing information on other vendors but we encourage you to evaluate them on the KLAS website. The following are points to consider when doing so:
As important as scores and rankings are, we recommend you also note the trending details. KLAS computes scores and ranks vendors based on a rolling average. Some vendors are improving and while their scores and rank may be lower than other vendors, improving customer satisfaction should be a significant factor in your decisions.
"Konfidence" factor shows the number of respondents for a vendor. Give more weight to vendors who have higher Konfidence factors. There are some categories where the responses are low for most vendors but note the differences in categories with many ranked vendors. For example, in the Implementation Supportive – Clinical category, KLAS currently ranks 15 vendors but only NHA and Nordic (a vendor in the Epic market) have achieved the highest Konfidence factor.
While receiving a "Best in KLAS" or "Category Leader" award is something to be very proud of, we believe it is important to look for consistency over time. NHA is rated in five categories and has received "Best in KLAS" or "Category Leader" awards in three of these over the past three years. While we are proud of these achievements, it is important to realize the difference between rankings can be statistically small.

Current NHA Rankings

Out of all KLAS rated vendors, NHA is currently ranked (as of June 16):
1st – Implementation Clinical – Principal
5th – Implementation Clinical – Supportive, winning the 2012 "Best in KLAS" award
3rd – Planning and Assessment, winning the 2014 "Best in KLAS" award
5th – Staff Augmentation, winning the 2014 KLAS "Category Leader" award
4th – Technical Services

Lastly, here are a few recent KLAS comments from NHA clients from each category:

Implementation Clinical – Principal:
"The people that Navin Haffty & Associates provide have a deep understanding of how MEDITECH products function and how to best utilize and optimize them in our environment. Navin Haffty & Associates is also able to leverage their relationship with MEDITECH to make sure we are heard and have issues resolved in a positive way. We won't use anyone else for our MEDITECH work." – Director, June 2015

Implementation Clinical – Supportive:
"Navin, Haffty & Associates worked with us to make sure we had the optimal consultants for our needs. This vendor is talented and I would recommend them to anyone who wants consultants who really know what they are doing. The consultants didn't just come to learn a system at our expense. They were easy to work with and they got the job done. I was confident in the knowledge of everyone I worked with. The executive that worked with us was always involved and visited monthly. We had a general project manager who touched base with everyone. We would take her back any day of the week. She was very, very good." – CIO, May 2015

Planning and Assessment Category:
"Navin, Haffty & Associates' consultants are very good people. The company brought in good, seasoned professionals and that made our project very successful. I liked that they don't get in here and try to sell their next job. That has been my complaint about most consulting companies. They prowl around looking for other things they could add onto the project. But Navin, Haffty & Associates stayed in the scope of our project and that was good." – CIO, June 2015

Technical Services:
"Right now we have someone from NHA that is working on our Meaningful Use interfaces. He has been working on them for quite a while. Those are really difficult. He tries to do everything without involving me and that takes the load off of my department." – CIO, May 2015

"We have probably used Navin, Haffty & Associates for at least five different engagements and every time they have been great. I don't think I will ever need to go outside of them." – CIO, May 2015

Staff Augmentation:
"When we originally started our interaction with Navin, Haffty & Associates, we just needed somebody with pharmacy experience to come in and help us out with basic CPOE things for a few months, but that role has very much evolved. We brought our resource in to help support our pharmacy system in MEDITECH's system and build the order sets for CPOE. Navin, Haffty & Associates was specifically doing staff augmentation to build those things out. That is still ongoing. Our resource has been here for quite a while. He totally supports the pharmacy systems and things in the hospital. I wish I could clone him and have three more of him. He works very closely with all the physician applications and not just with CPOE. He works with the whole physician workstation management. He has been doing the measures for all the interfaces, like the electronic lab reporting for the lab results, immunizations and all sorts of other things going to the state. He knows the nursing applications inside and out now, so he has taken on many different hats here." – Analyst/Coordinator, June 2015
6.1 Revenue Cycle Enhancements
Back to Top
MEDITECH has rewritten 6.1 applications associated with the Revenue Cycle process and combined what used to be BAR, ADM, CWS and ARM. The major advantage is a single database for both Inpatient and Ambulatory. This allows hospitals to schedule patients as well as manage contracts for population health from a single point across the continuum of care.

Below is a list of other features worth noting:
Patient Accounting Desktop (PAD) – The central source of all routines needed by an account representative. "Today's Schedule" will guide users and prioritize activities for their day.

Bill Based System – Each bill will follow its own collection stream with task and events associated with that bill only.

Account Statuses – Account statuses are changed to reflect the status of each bill on an account. Instead of UB, IB, FB and BD; 6.1 statuses include New, UR, AR, URAR, BD, URBD, ARBD, URARBD, Zero, CINew, CIUR and CIZero.

SP Guarantor Stream – All collection activities for one guarantor are consolidated into one collection stream.

Historical Accounts – Retiring and purging are no longer necessary. Accounts are moved to a historical status after 90 days at zero balance to improve system efficiency. Accounts are still accessible in reports and batches for posting financial and other collection activity.

Real Time Charging – Charges can be sent from each application at defined intervals throughout the day instead of only during the midnight run.

OS Agencies/Collectors – The agency dictionary now only includes true bad debt agencies. OS agencies are built as outside collectors. Sites can utilize MEDITECH's outbound and inbound collection interface for account placement and posting of financial activity.

Worklist Driven – MEDITECH system defined worklists capture such things as Missing System Assigned dictionaries (catch-alls), tasks (reminders), account checks, denials and charge rejections. Additional user defined worklists can be created and assigned to meet the needs of each facility.

No Insurance Group – Insurance groups are no longer used. Financial class or insurance as well as account type are the driving factors behind most worklists.

FSD (Financial Status Desktop) – Powerful reporting tool/desktop replaces standard period end reports.

CSID (previously UCRN) – Created at time of bill post instead of claim generation. Payments must be posted to CSID, preventing posting of insurance payment from incorrect insurance to a bill.

If you have any questions regarding capabilities in 6.1, feel free to contact your MEDITECH or NHA representative.
Benefits Realized! Achievements from READY Implementations
Back to Top
This is the last on our series of benefits realized. We hope you have found some ideas and inspiration. If you missed any articles they are published in our newsletter starting in January. This article will cover interface and integration benefits.

Interfaces/Integration:
Implemented a more efficient data model for lab result interfaces eliminating a third party interface product and resulting in cost and operational savings.
Eliminated/reduced interfaces and related complexity:

Eliminated 52 interfaces by converting from ChartMaxx to MEDITECH's Scanning and Archiving (SCA);
Went from ten Non-MEDITECH Interfaces (NMI) to a single Cloverleaf ADT interface;
Reduced the MEDITECH LAB ORU interfaces from five to one Cloverleaf results interface;
All resulting in significant operational cost savings and reduction in complexity saving IT support staff time and improving uptime.

Significantly improved access to real time clinical information for patient safety with integration of PCS, TAR and Lab/BBK.
Communications: The Critical Point of Success or Failure
Back to Top
Last month, we shared a few thoughts on customer service and project management tenets. This month we want to review some ideas on communications.

Staff and customers are the two target audiences for most managers. This article addresses communication with staff. We'll share some thoughts on communicating with customers in next month's newsletter.

When we are engaged to review IT staff performance, there is usually a strong correlation between internal communications of IT staff and the level of commitment and engagement. While most managers, directors and CIOs communicate often and clearly with staff, in some cases, we have observed a surprising lack of effective communication. Some suggestions and measures to consider:
Do you

speak

with each of your direct reports at least weekly? (we have seen some rely extensively on email)
Does the senior IT leadership provide the entire IT staff with an overview of key goals and direction?
Are there opportunities for staff to provide ideas and suggestions?
We believe annual anonymous employee satisfaction surveys provide a means for staff to share concerns that may be uncomfortable stating directly.

At NHA, we have a staff of approximately 275 spread across the country. Most of our consultants travel from their homes directly to client sites so we do not have the level of face-to-face contact that others may (we realize that many of the larger multi-facility health systems have similar organizational challenges). To ensure a level of internal communication, we do the following:
We expect each manager to speak with each of their staff each month. Most of our staff are on long-term projects and have a separate project manager directing their weekly work.
We conduct a town hall style WebEx to update all employees on a variety of topics ranging from the state of our business, to MEDITECH updates, to HR and technical news each quarter.
We have two virtual recognition boards, one for staff thanking each other for assistance and a separate board for feedback from our clients. We all know that recognition is one of the keys to staff satisfaction and have found these tools to be a convenient way to facilitate this.
We publish our KLAS scores and comments regularly.
We conduct an annual employee satisfaction survey. Since we want this to be anonymous, last year we switched to using Modern Healthcare for this process.
Every 18 months we host an in-person company meeting.
KLAS Report: Physician Leadership Weighs in on Acute Care EMR Usability Progress Over Past Two Years
Back to Top
In May KLAS issued a report on acute care EMR usability. While Epic and Cerner still attest to high satisfaction, the summary noted that "…MEDITECH distinguishes themselves as having made up the most ground when compared to the other EMR vendors in the report." This provides another supporting data point demonstrating MEDITECH's success with physician adoption.

In our opinion, several factors are contributing to this success. MEDITECH's focus on the addition of physicians to their staff is reflected in improved usability. Physicians feel they are being heard as READY implementations address governance and engagement early in the process and projects become organizational (not IT) undertakings. Finally, the focus on at-the-elbow training and support has enabled the entire hospital to successfully Go-LIVE at one time.

Specific success stories will be shared in the next few newsletters.
MEDITECH Events
Back to Top
6.x Peer-to-Peer Information Exchange
This event is now open for registration and will be held at MEDITECH's new conference center in Foxborough, MA on September 16 – 17. A list of initial topics has just been released. Sessions will highlight clinically sophisticated tools, customer successes, and MEDITECH's groundbreaking new platform.
Physician & CIO Forum
MEDITECH is combining its CIO/Technology and Physician Forums into one event this year. It will be held on November 5-6. Registration is now open. It's not too early to get this on the calendar for your key physicians, CMOs and CMIOs.
Upcoming…
6.x Peer-to-Peer Information Exchange // September 16-17, Foxborough, MA – Register
Physician and CIO Forum // November 5-6, Foxborough, MA – Register
Client Job Board
Back to Top
If you are interested in exploring new positions at other organizations visit the client job board section of our website. This is a free service of Navin, Haffty and Associates to the MEDITECH community. Currently, there are many postings from MEDITECH organizations. If you or a colleague are interested, take a look and see what's open.
If you would like to include your organization's listing on the Navin, Haffty & Associates website, please email Kelly Tracy at ktracy@navinhaffty.com (Please note that as this is a courtesy to the MEDITECH community, we will not accept postings from recruiting companies.)
NAVIN, HAFFTY & ASSOCIATES
Back to Top
Since our inception, Navin, Haffty & Associates' sole focus has been providing solutions that maximize the value of your MEDITECH EHR. The experience we have gained along the way has made us the largest and most respected MEDITECH consulting firm in North America. This exclusive focus has allowed us to provide clients with greater insight and understanding of MEDITECH's capabilities and the expertise to better deliver innovative tools, solutions, and strategies that improve your operational performance and enhance patient care quality. Our proven track record has positioned us to become MEDITECH's first and most experienced READY – certified consulting firm.
Our staff not only makes up the largest MEDITECH consulting team available, it is also comprised of the most experienced professionals in the industry. Our pool of 240+ consultants are some of the most seasoned professionals in the industry with an average 14 years of MEDITECH, 18 years of overall IT, 6 years of consulting, and 20 years of EHR/HCIS experience. By leveraging the combined expertise of our consulting team, Navin, Haffty & Associates stands second to none and is uniquely positioned to meet the needs of any organization utilizing the MEDITECH EHR. Our proven track record of success has led to Best in KLAS rankings for Planning and Assessment and Category Leader for Staff Augmentation.