July 2016
Thoughts From Our President
Back to Top
This month I'd like to deviate from our MEDITECH and IT discussion to suggest a book that some of you might find of interest. Stories from the Shadows by Dr. James O'Connell describes 30 years of caring for the homeless in Boston by a team of nurses, social workers and physicians. Below are a few reviews from Amazon:
"This book restores my faith in humanity, and leaves me with profound gratitude and respect for these healthcare workers."


"Beautifully written with deep compassion for the people he serves and the staff with whom he works. Reading his stories, I felt I was walking along side of Dr. O'Connell and his team as they provided exquisite care to those often wished or rendered invisible in our society."
As we too often focus on the business and IT side of healthcare, it is refreshing to get pulled back into the caring side of healthcare. If you choose to read this, let me know what you think.
John Haffty, President

Update to our Quality and Value Measures Study
Back to Top
Last month we published a study documenting that hospitals using MEDITECH outperformed those using Cerner and Epic on CMS Quality and Value Measures. Since then we have further analyzed the data and have found that MEDITECH hospitals that are on the 6.x platforms demonstrated better outcomes than hospitals on Cerner and Epic, as well as those on the MEDITECH MAGIC and C/S platforms. Here is a summary of the updated findings:
The table below provides the numbers of hospitals in the study and those impacted by category. Note that hospitals that provided data to CMS for one but not all categories were included only in the adjustment statistics of categories for which they provided data. MEDITECH hospitals are broken out by platform to clarify the results of hospitals on the 6.x platforms versus those on the MAGIC and C/S platforms.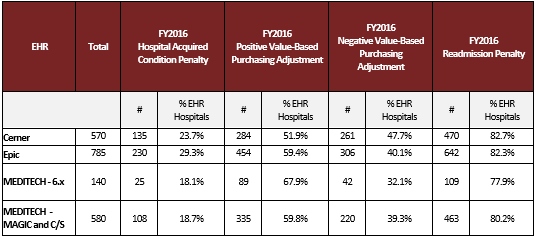 MEDITECH Announces Integration with OBIX Perinatal System
Back to Top
From the MEDITECH website:

MEDITECH and Clinical Computer Systems, Inc. have teamed up to develop a solution that will offer seamless integration between MEDITECH's EHR and the OBIX Perinatal Data System, ultimately delivering greater information to support patient care.
The co-developed software interfaces will enable providers to see any data charted in OBIX automatically sync with their MEDITECH system and vice versa. Users will also have quick access to review any relevant data from the OBIX fetal monitor strip through a single sign-on feature.
Check out the full press release for more information.

The following is a link to a session on this subject from last month's Nurse and Home Care Forum, which references two early adopters – one with OBIX and the other with GE.
5.x to 6.1 Migration Benefits
Back to Top
If you are planning to or even considering migrating from MAGIC or C/S to 6.1, MEDITECH has developed detailed benefits documents by functional area, department and platform. The following was recently published in their Quarterly Highlights newsletter, and their Migration Benefits page has information you will find useful.

With intuitive tap and swipe navigation, increased integration, and fewer clicks, our 6.1 EHR is ready to revolutionize the way you work. Visit the new Migration Benefits page to find the clear-cut path to better workflows, smarter tools, and more informed decision-making. Conveniently choose the workflow area, topic, and your 5.x platform to generate a list of documentation, highlighting the advantages of 6.1.
Medicare Bundled Payments – Best Practices for MAGIC and C/S Sites
Back to Top
The following is from the MEDITECH Financial News, Quarterly Highlights:

Medicare's Comprehensive Joint Replacement System (Model 2) — which began on April 1 and will run for 5 years — requires participating care facilities to include all services 30 days prior to admission and 90 days after discharge. MEDITECH's recommendations to accommodate this process are outlined in our C/S and MG Best Practices. We're interested in hearing your plans to monitor the care and reimbursements associated with this new initiative. Your input will help shape our support to ensure your organization's success.
Centralized Immunization Model and MU Stage 3
Back to Top
The following is from the MEDITECH Clinical News, Quarterly Highlights:

For Meaningful Use Stage 3 (MU3), MEDITECH is certifying the Centralized Model of Immunizations as the method for capturing immunization data in the system, applicable exclusively to Client/Server customers. Hospitals are encouraged to convert to the Centralized Model before attesting for MU3. Should your organization migrate to 6.x, the Centralized Model is the only tool available for documenting immunization information. *Note: MAGIC customers will continue to utilize the Query-Based Model of Immunizations.
For more information, reference these documents:
PHA Immunization Functionality Setup Overview

Centralized Immunization Enhancement Tutorial
Highlights from MEDITECH's Nurse and Home Care Forum
Back to Top
For those of you unable to attend last month's Nurse and Home Care Forum, you can find most of the presentations online here. Be sure to check out "Using Surveillance to Keep an Eye on Sepsis," co-presented by NHA and Valley Health System.
KLAS Rankings
Back to Top
Each month we share our KLAS rankings and some comments from clients. We believe KLAS provides the best representation on how vendors are performing in the eyes of their clients in our industry. We hope this serves as a reminder to check KLAS rankings and commentary when considering a consulting company.

In every category we score above the industry average. As of July 18, here are our rankings:

3rd – HIT Enterprise Implementation Leadership

– We were awarded "Best in KLAS" for this category for 2015/2016. Please note that only one other MEDITECH READY certified company is even ranked in this category, and our score is actually higher today than when we were selected for the Best in KLAS award.




2nd – Technical Services

– Our score has improved since year-end as well. This category covers report writing, data repository and proration rules services.




13th – IT Advisory Services

– Previously known as Planning & Assessment, where we were "Best in KLAS" for 2014.




11th – HIT Implementation Support and Staffing

– for small READY implementations and backfill resources. Note that our score is higher than every other MEDITECH consulting company.

Selected Comments from June 2016:

"We know that we are going to get great resources from Navin, Haffty. Their analysts have a lot of experience from other projects they have done; they often say that they have done something at another site that worked well. Then they do it, and it works great for us. That kind of experience is hard to match, and it is really invaluable to us." Executive

"Navin, Haffty did pre-implementation planning and some assessment work for us. We were very satisfied with the work they did, and we feel like they set us up for success." Executive

"Navin, Haffty does very well with report writing. We have them doing everything from financial reports to meaningful use and operation reports. They have some resources who are very technical and very good at report writing. Everything Navin, Haffty does is top notch." Executive

Please note selected commentaries may not represent the whole of provider sentiment related to this product or service. For a complete view, visit KLASresearch.com.
Quick Notes
Back to Top
NHA is pleased to congratulate Beaufort Memorial Hospital, Beaufort, South Carolina on their successful migration from 6.0 to 6.1. NHA is proud to have been their consulting partner for this project.

NHA is pleased to announce the recent contract with Sierra View District Hospital, Porterville, California to serve as their consulting partner for their 6.1 project. They are migrating from MEDITECH C/S to 6.1 and will also be implementing MEDITECH's Ambulatory EHR.

Congrats to our friends at Halifax Health, Daytona Beach, Florida, where they were named one of the "Best Places to Work in IT" for the second consecutive year by

Computerworld

. For the full story click

here

.

MEDITECH's Physician and CIO Forum – October 20 – 21
Back to Top
Last year MEDITECH combined its Physician and CIO Forums into one session, which was a huge success, providing significant education and helping bridge the understanding of the needs of physicians with the challenges of CIOs. They are repeating this format this year on October 20-21 at their new conference center in Foxborough, Massachusetts. Registration is open, and the program and agenda will be posted soon.
MU Alert
Back to Top
On July 6, CMS announced a proposal to reduce the 2016 attestation period from the 2016 calendar year to any continuous 90-day period within calendar 2017. This would apply to all eligible hospitals, including critical access hospitals and eligible providers. For 2017 the requirement for full calendar year reporting was retained.

Except for the reduction from a calendar year to a 90-day reporting period, the majority of eligible providers will not be affected by these changes. The last year providers will be attesting to Meaningful Use criteria is 2016; in 2017 providers will fall under the requirements of the Medicare Incentive Payment System (MIPS), which is part of the Medicare Access and CHIP Reauthorization Act (MACRA) regulations.

For hospitals and critical access facilities, there are some additional changes proposed for 2016 and 2017.

Beginning in 2016, and extending into 2017 and beyond, Stage 2 and Stage 3 facilities will not be required to report compliance with either Clinical Decision Support (CDS) or Computerized Provider Order Entry (CPOE). CMS feels that compliance for these criteria has reached its maximum, and continued requirements would provide no further advancement in these areas.

It should be noted that the removal of these two criteria applies only to Medicare-reporting facilities. Hospitals reporting under a state's Medicaid MU program would still need to meet and report compliance for the CDS and CPOE criteria.


The minimum compliance for the View, Download and Transmit (VDT) criteria was previously established as one patient having viewed, downloaded or transmitted their data in 2016 and would change in 2017 to a minimum of greater than 5% of patients having viewed, downloaded or transmitted their data.

The proposed change would retain the minimum or "one patient in 2016" having viewed, downloaded or transmitted their data. For 2017 this 5% minimum would be changed to the 2016 requirement of one patient in 2017 having viewed, downloaded or transmitted their data.
There are also changes proposed that are directed to Stage 3 requirements in 2017 and 2018 (Stage 3 is optional in 2017 and mandatory in 2018). Among these are:
For the Public Health/Clinical Data Registry Reporting criterion, the number of submissions to agencies or registries would be reduced from four to three. Any combination of qualified reporting would be acceptable.

The Patient Electronic Access criterion will have a reduced minimum compliance for Stage 3. Currently the minimum is slated to be that greater than 80% of patients have access to their information. The proposed minimum would be greater than 50%.

The Health Information Exchange criterion will also have a reduced minimum compliance for Stage 3. The measure looks at the creation of a summary of care record and currently requires a Stage 3 electronic transmission minimum of greater than 50%. Under the proposed change, the electronic transmission minimum is to be greater than 10%.

Taking into account that not all patients will require a follow-up message after discharge and that patients will not necessarily access the sent messages, the Secure Messaging criterion minimum for Stage 3 is proposed to be reduced from its current 25% minimum to a greater than 5% minimum.


CMS has reconsidered its universal requirement that all hospitals (including critical access hospitals) meet Stage 3 requirements in 2018. Under the proposed changes, facilities that have not previously attested to Meaningful Use by the end of 2016 will be required to attest to the current Stage 2 criteria by October 1, 2017. Their reporting period will be any continuous 90-day period.

It is worth noting again that these are proposed changes and the comment period is a two-month window, ending September 6, 2016. Although proposed, we feel that hospitals and healthcare organizations will welcome these changes, and we do not feel that any are in danger of not being approved.
NHA is Hiring
Back to Top
To keep up with the demand from our clients, NHA continues to need excellent MEDITECH specialists. We have been named among the top 100 Best Places to Work in Healthcare by Modern Healthcare for the third consecutive year.

We believe there are significant advantages to being part of NHA. As part of the largest consulting company focused exclusively on serving the MEDITECH community, we enjoy an exceptional working relationship with MEDITECH, offer a collaborative work environment and treat each of our staff with respect. Our competitive compensation package includes exceptional medical insurance coverage as part of our extensive benefits as well as ongoing education to maintain and develop skills and talent. Our employment approach and focus on long-term business relationships has led to an unparalleled record for consultant and client retention.

If you have interest in consulting and have solid MEDITECH experience with implementing one of their applications, please contact us. We have an outstanding mentoring program for new consultants and the best reputation in the MEDITECH community for training and development of our staff. We are the first company certified in the new MEDITECH READY implementation methodology.

We are also interested in experienced consultants from other companies. As the largest company that works exclusively with MEDITECH, you would be supported as you continue to build your skills. In addition, our management approach has demonstrated a respect for our consultants and created a collegial atmosphere that encourages information sharing and support.

While we have a number of openings, at this time, we are particularly interested in candidates with strong project management experience (6.x preferred), Revenue Cycle and Ambulatory experience.

If you are interested please contact us at recruiting@navinhaffty.com or call us at 855-309-9334. See what positions are currently available by visiting the NHA Current Openings page.

Please note that at this time, we are only able to consider those able to travel up to 80% of the time. (Current employees of MEDITECH or of our clients cannot be considered.)
Client Job Board
Back to Top
If you are interested in exploring new positions at other organizations visit the client job board section of our website. This is a free service of NHA to the MEDITECH community. Currently, there are many postings from MEDITECH organizations. If you or a colleague are interested, take a look and see what's open.
If you would like to include your organization's listing on the NHA website, please email Katie Kelly at kkelly@navinhaffty.com. (Please note that as this is a courtesy to the MEDITECH community, we will not accept postings from recruiting companies.)