January 2017
Thoughts From Our President
Back to Top
Navin, Haffty & Associates (NHA) continues to focus our efforts on maximizing the value of the MEDITECH EHR. In this newsletter, we published a link to our study on the financial impact of implementing 6.x compared to that of MEDITECH's major competitors. Further, NHA has developed a benefits identification methodology for determining the potential gains associated with a migration to 6.1. You may also recall that some months ago we published our research on the comparison between MEDITECH and its major competitors on CMS penalties. We continue to increase our commitment to research and hope these studies are useful in correcting some of the misperceptions that exist. Based on our findings, hospitals that implement 6.1 either perform equally or outperform hospitals that implement Epic or Cerner with regard to several of the most critical financial and qualitative measures.

Going into this new year, we are researching approaches and solutions around Population Health and Analytics for MEDITECH hospitals. These are evolving areas, and we believe we will soon be able to provide guidance regarding strategies that may address the majority of needs for many of you.

If you have questions about these studies, or need more information on these or other topics, contact me at jhaffty@navinhaffty.com.

Wishing each of you a healthy and happy 2017.
John Haffty, President
Hospitals Implementing MEDITECH 6.x Improves Profitability Compared to Cerner or Epic!
Back to Top
NHA has completed a very detailed study comparing the pre-LIVE to post-LIVE impact of implementing a new EHR on hospital operating margin. We conducted this study to help hospitals in understanding how such a project impacts the bottom line over the long term and if there are different outcomes depending on which EHR vendor is selected. This study included all acute care and critical access hospitals and calculated the change in operating margin within the same hospital from the year two years pre-LIVE to the year two years post-LIVE.
Key Conclusion: Hospitals that implemented MEDITECH 6.x realized significant operating margin improvements in comparison to those that implemented Cerner or Epic across all bed-size tiers.
This is an important finding and backed by extensive research. We encourage those that are interested to read the full study posted on our website.
We are aware that some of MEDITECH's competitors present a similar study regarding improvements in operating margin performance after their EHR is implemented. We encourage you to look closer as these studies are flawed and misleading, using limited sample sizes and unsupported methodologies to make their case (it may be a coincidence, but, since we called this out, one vendor has pulled their study from their website).
If you have any questions or want more information, contact David Haffty, Director, at dhaffty@navinhaffty.com.
Interoperability Update
Back to Top
There has been a recent announcement: Carequality and CommonWell Health Alliance Agree on Connectivity and Collaboration to Advance Interoperability.

This is significant, as it covers approximately 90% of acute care EHRs and 60% of ambulatory EHRs. (The two major alliances for establishing interoperability are CommonWell, which consists of MEDITECH as well as most major EHR vendors, and Carequality, which is where Epic is aligned.)

This announcement strongly suggests the next level of interoperability will emerge in the coming few years. For more information, click here.
Beware of Misrepresentations
Back to Top
Once again we have found a competitor misrepresenting how they compare to NHA. Again, we won't name the consulting company, but we want to set the record straight.
This company compares itself to NHA based on KLAS' Healthcare IT Advisory 2016: The Experience Factor performance report, published in May 2016. In this report:
NHA is the top-rated MEDITECH READY certified consulting company.
NHA is the 4th overall rated company providing comprehensive advisory services in the entire industry.
NHA is the highest rated of all MEDITECH READY certified consulting companies in the following categories:

Overall Performance
Planning and Assessment
Clinical Transformation/Optimization
Meeting Timelines
Quality of Staff
Executive Involvement
In our competitor's marketing material, they pull a few isolated subcategories to give a different impression of how they perform in comparison to NHA. We would strongly recommend reading the full report directly and not relying on another vendor's interpretation of this study's data.
Click here to link to our summary of this study or visit the KLAS website to access the full report.
Analytics Strategies for MEDITECH Hospitals
Back to Top
Analytics: The discovery, interpretation and communication of meaningful patterns in data.

Beyond basic reporting, analytics adds formula-driven analysis and graphics to help explain the data or answer questions. NHA has worked with a number of MEDITECH hospitals to determine their needs and develop the best approach to cost effectively meet those needs. We differentiate among basic reporting, operational analytics and population health analytics. The graphic below helps distinguish categories: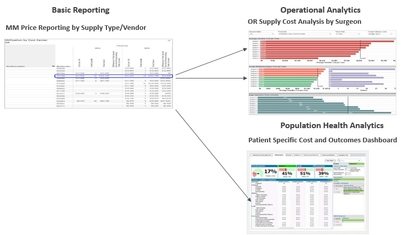 Analytics Use Cases:

Operational Analytics Examples
ED throughput
Clinical variation analysis

Physician costs
Physician prescribing
OR supply utilization and efficiency by surgeon

Purchasing volumes, pricing and product mix by vendor over time
Laboratory turnaround time reporting
Imaging service capacity tracking
Radiology turnaround time
Population Health Management Analytics Examples
Patient risk stratification
Cost modelling by population (chronic, high, medium and low risk and acute episode patients)
Monitoring of patient compliance and illness by patient population
Utilization tracking by patients and populations based on care guidelines
Predictive modelling

Financial margins for each chronic condition population and each practice
Risks and rewards of various business and clinical initiatives
Simulation of the onset, progression and subsequent treatment of a disease
Forecasting of the financial impact of various interventions by population group
Forecasting risk based on the population mix of a specific population or practice
NHA has developed a detailed understanding of MEDITECH cross application as well as in-application capabilities for meeting the various analytic needs that exist today. As noted in our December newsletter, we work with and are knowledgeable about other data analytics and data visualization tools in the industry and have provided guidance to clients on the advantages and limitations of the various products and tools in the market.

As analytics are a key component of population health management, we will be publishing more information on these topics in the coming months. If you are interested in learning more about our analytics capabilities, contact us at info@navinhaffty.com.
KLAS Rankings and Comments
Back to Top
While we wait for KLAS to publish the year-end Best in KLAS results, we would like to share the following comments that were posted in December:

The consultants from Navin, Haffty & Associates have great strategic expertise in the space that we are working in. They know everything that is going on. – Executive

The Navin Haffty resources have been excellent. The project manager really held the project together. This individual understood the talent of our internal staff members and helped to further develop their skills. The analyst resource was incredibly knowledgeable about our acute EMR platform and was very high energy. We loved how this resource never thought that something could not be fixed or resolved. – Executive

Navin, Haffty & Associates is awesome. We needed a consultant in here quickly, and they were able to get a consultant here within two days. I had called several other vendors, and they didn't even get back to me within two days. With Navin, Haffty & Associates, we were able to screen the candidate, get everything done, and have the consultant here in two days. That was really awesome. – Executive

John Haffty stays pretty involved with our account and has connected us with people throughout the industry for goodwill purposes. Those are not major things, but there is no runaround about whether things are billable. We get a lot of value from what the consultants do. I don't know that there is a better consulting company to work with. This one is pretty awesome. – Executive

Please note selected commentaries may not represent the whole of provider sentiment related to this product or service. For a complete view, visit KLASresearch.com.
Quick Notes
Back to Top
MEDITECH's 6.1 Revenue Cycle Drives Efficiency at Anderson Regional. This article describes the significant improvement experienced by Anderson Regional in a variety of financial metrics. NHA is proud to have been the consulting partner for this MAGIC to 6.1 migration. Following the project, Anderson's CEO provided the following quote:
"Across the board this implementation exceeded expectations. The collaboration and team work demonstrated between our hospital, MEDITECH and NHA is truly outstanding. We are seeing the results of these teams working together over the past several months. There is trust, respect and a unified goal of success. This is quite impressive to witness."
– John Anderson, Chief Executive Officer
Anderson Regional Medical Center
MEDITECH's president, Howard Messing, sent out a year-in-review message. If you missed this, click here
Wooster Community Hospital, Wooster, Ohio has selected NHA as implementation partner for its migration from MEDITECH 6.0 to 6.1. This project will include the new Web Ambulatory product
MEDITECH Announces Home Care Optimization Symposium
Back to Top
MEDITECH will host its annual Home Care Optimization Symposium on March 14 through 16 in Atlanta. For more information, click here.
Upcoming Doctors' Hours Webinars
Back to Top
From the MEDITECH website:
An interactive webinar series led by MEDITECH physicians
The goal of our Doctors' Hours series is to provide an opportunity for physician leaders in the MEDITECH community to meet and interact with members of our physician consultant team. During these hour-long webinar sessions, attendees will learn how to optimize their use of the MEDITECH system through physician instruction, recommendations on best practices, and lessons learned from your peers. The one-hour format also includes an opportunity, at the end of the session, for attendees to ask questions and participate in discussion with the physician presenter.
Physician Governance & Physician Roles
Presented by Bryan Bagdasian, MD – January 10 @ 12 p.m. ET

Communication Strategies for Physician Leaders
Presented by William Gustin, MD – January 12 @ 12 p.m. ET

Organizing Physician Advisory & Workgroup Meetings
Presented by K. Nadeem Ahmed, MD – January 17 @ 12 p.m. ET

CLPP Executive Webinar Q & A
Presented by K. Nadeem Ahmed, MD – January 18 @ 12 p.m. ET

Root Cause Analysis: Improving Clinical Processes
Presented by Bryan Bagdasian, MD – January 23 @ 11 a.m. ET
CLPP Ambulatory Implementation Physician Advisor Q & A
Presented by Joy Chestnut, MD – February 8 @ 12 p.m. ET
Click here to register for any of the above presentations.
HIMSS 2017
Back to Top
HIMSS will be held February 19 through 23 at the Orange County Convention Center in Orlando, Florida. We expect there will be much to learn and see. MEDITECH will be at Booth 3279, and once again they are hosting a client appreciation event. Click here to see highlights.

If you are planning to attend HIMSS and want to meet with one of our executives, we would welcome the opportunity. NHA will have a conference room at the convention center for private meetings. If you are interested, please contact dlafontaine@navinhaffty.com.
NHA is Hiring
Back to Top
If you are interested in consulting, consider joining us. NHA continues to need excellent MEDITECH specialists and for the third year in a row, we have been named to the Top 100 "Best Places to Work" by Modern Healthcare magazine.
We have hired 11 new consultants in the past 3 months and expect to add many more in 2017.
If you are interested, please contact us at recruiting@navinhaffty.com or call us at (855) 309-9334. See what positions are currently available by visiting the NHA Career's page.
Please note that at this time, we are only able to consider those able to travel up to 80% of the time (also employees from MEDITECH and our clients cannot be considered).
Client Job Board
Back to Top
If you are interested in exploring new positions at other organizations visit the client job board section of our website. This is a free service of NHA to the MEDITECH community. Currently, there are many postings from MEDITECH organizations. If you or a colleague are interested, check out what's open.
If you would like to include your organization's listing on the NHA website, please email Katie Kelly at kkelly@navinhaffty.com. Please note that as this is a courtesy to the MEDITECH community, we will not accept postings from recruiting companies.