February 2016
Thoughts From Our President
Back to Top
For the second year in a row, MEDITECH has been recognized as Best in KLAS for Community HIS and also rated Category Leader for Global Acute Care EMR – Canada. Congratulations to our friends at MEDITECH for achieving this significant honor. This again reinforces our recent statements that the 6.x platform is evolving into the leading solution for community hospitals. For those who have decided to migrate to 6.1, this information validates your decision. For those considering 6.1, the current Best in KLAS results should strongly support continuing in that direction.

Also, Navin, Haffty & Associates (NHA) is proud to be a Best in KLAS winner again! Read further details in the "KLAS: 2015 Year-End Rankings" article of this month's newsletter. While KLAS' disclosure rules prohibit us from providing too much information, we suggest you also view the rankings for yourself at www.klasresearch.com.
John Haffty, President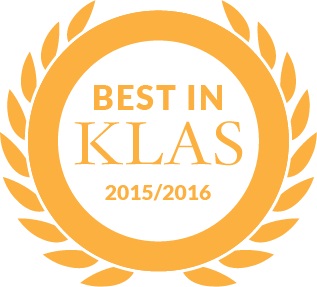 Navin, Haffty & Associates
2015/2016 Best in KLAS
HIT Enterprise Implementation Leadership
Thinking of Migrating from MEDITECH to Epic? Read This…
Back to Top
We realize that some hospitals will leave MEDITECH and migrate to Epic due to mergers, affiliations or perceptions of some physicians and leaders. We also recognize that many of our client's hard-working IT staff follow the dictates of leadership and may not have been involved with these decisions. Regardless, NHA will support our clients' MEDITECH EHR while they are in the process of such a transition.
 
Below is a status update regarding a transition from MEDITECH to Epic from one of our consultants. We have de-identified the client but believe this example may be useful information since for various reasons (and rumors abound as to why), the market generally does not hear when Epic projects do not go as planned.
"Things here at [hospital] are…..well…they're a big mess right now. The 'big wigs' from Epic were here last week to present to the CEO and the Board their pre-LIVE evaluation of the progress that has been made. While I wasn't privy to it, one of the staff shared the following information with me.
 
It's not good – overall Epic has placed the hospital in SERIOUS condition for the implementation and Go-LIVE. The hospital has lost their 'clean install' rebate. (I didn't know Epic had such a thing.) They further went on to cite the hospital for failure to perform adequate integration testing and failure to perform testing in some areas at all. They start user training in two weeks. Order sets are way off schedule and they are just now starting to build the provider templates for documentation. So far they are just rebuilding MEDITECH into Epic. The providers have spoken and have made it clear that they want their templates built into Epic. They are comfortable with them and like the way in which they flow. 
 
While they are on schedule for many things, it looks to be the big things that are way behind. In all, the report was an eye opener. My impression is that this all could have been avoided if:

Epic hadn't sent newbies to be the site's implementation specialists. These 'kids' don't know enough.
The hospital hadn't made team leads of IS folks who had never been through an implementation. They just don't have the knowledge base to handle such an extensive project.

The hospital had brought in a true project manager and consultant team to spearhead the milestone tasks.

 
One of the newest 'non scope' projects I'm hearing about is to now extract as much MEDITECH data as possible. Not just two years of labs but every report in the EMR. This includes PDoc reports. They don't want the providers to have to click over to the EMR to see any old information. But yet they won't convert home medications. So that may cause issues with the cut over patients and providers being able to do medication rec on discharge. I think at this point the hospital's expectation for who is going to be doing what is too fluid. They expect the providers to reenter all of the patients' problems from the MEDITECH problem list. (This would have been easily converted since they are all MEDITECH and Epic-based on ICD-10.)
 
What I'm hearing is that they are going LIVE with a bare bones system and hoping for the best." 
 
Our takeaways from this:
It is about the implementation process as much as it's about the software. There are no guarantees that you will get the level of service from the software vendor that you need. These are complex projects and project management fundamentals apply regardless of the software vendor.
The physicians at this hospital were comfortable with their MEDITECH EHR and use of CPOE as it was and they have built Epic to mirror their current experience.  
Sometimes decisions get made at a corporate level without an appreciation for the level of success and sophistication that has already been achieved. This is not the first Epic implementation we have heard of where the physicians do not believe they are getting a better solution.
 
Please note that we intend no criticism of Epic. They have a successful product and have many happy users. However, as MEDITECH has also evolved, there are many happy users in our community and the transition to another vendor does not always result in improved satisfaction or productivity.
 
Last month, we shared observations on seeing MEDITECH's products equaling or exceeding the capabilities of any other vendor in the healthcare market. We also noted that the only barrier to success would be if decision making was not rational. This hospital represents an example of such a case.
KLAS: 2015 Year End Rankings
Back to Top
NHA is extremely pleased to share its 2015/2016 KLAS rankings for the consulting services market. We achieved Best in KLAS in HIT Enterprise Implementation Leadership. We also scored 2nd in overall performance of any consulting company (out of more than 100 rated). Our overall score of 91.9 represented a solid improvement over our 2014 score of 89.8 (when we ranked 4th overall).

We scored high in all four categories in which we were ranked, far more than any other consulting company providing services to the MEDITECH community! Also, in every category we were the top ranked company providing services to the MEDITECH community.

NHA ranked:
1st – HIT Enterprise Implementation Leadership (NHA ranked 5th in Clinical Implementation Principal in 2014, the category that most resembles this new category.)
2nd – IT Advisory Services (NHA was Best in KLAS in Planning and Assessment in 2014, the category that most resembles this new category.)
2nd – Technical Services (NHA was 2nd in 2014 as well.)
9th – HIT Implementation Support and Staffing (NHA was Category Leader in Staff Augmentation and 12th in Clinical Implementation Supportive in 2014, the categories that most resemble this new category.)

In summary:
NHA continues to demonstrate consistency in rankings across a broad range of categories. While some consulting companies may have a strong ranking for a single year, few are able to maintain the level of performance over time. We are proud to be highly rated year after year.
Many think of NHA for only MEDITECH implementation and application assistance. However, our rankings in both the Planning and Assessment and Technical Services are significantly higher than any other MEDITECH consulting company making us a valuable resource in these areas as well.

We encourage you to view the KLAS rankings and user comments for yourself. Any provider organization that participates in their survey receives access to this information at no cost.

We'd like to thank those who took the time to provide feedback to KLAS on our services.
CMS Revises MU Hardship Exemption Application
Back to Top
Centers for Medicare & Medicaid Services (CMS) has released new rules for hospitals and providers relating to the application and granting of hardship exemptions. These rule changes apply to the 2015 Meaningful Use (MU) year, and if accepted, would exempt the site from penalties in 2017.

Instructions and Applications can be found at the CMS website.

CMS has added a new clause in Section 2 relating to the circumstances of a provider or hospital's hardship. Under the EHR Certification/Vendor Issue subsection, CMS states that "provider(s) faced extreme and uncontrollable circumstances in the form of issues with the certification of the EHR product or products such as delays or decertification, issues with the implementation of the CEHRT such as switching products, or issues related to insufficient time to make changes to the CEHRT to meet CMS regulatory requirements for reporting in 2015." The reasons noted in italics should be considered if a provider or hospital is considering a hardship submission.

Several other notes:
Critical Access Hospitals have their own application
Eligible Providers and hospitals use the same application
For group practices of providers, you may now submit a single application covering all providers in the practice
Deadline for providers to submit a hardship application is March 15, 2016
Deadline for CAH's and acute care hospitals to submit a hardship application is April 1, 2016
Resource: New Interactive Features to MEDITECH's Patient & Consumer Health Portal
Back to Top
MEDITECH has announced the following new features to its Patient and Consumer Health Portal:
Online Bill Pay
Scheduling appointments through Direct Booking
Access to educational materials
Integration of patient-generated health data through wearables
Secure messaging for supporting private dialogue

Watch for webinars on this or contact your MEDITECH marketing representative for more information.
HIMSS 2016
Back to Top
If you are planning to attend HIMSS in Las Vegas on February 29 through March 4, NHA will be present once again. We will have a meeting room so if you are interested in scheduling some time with someone from our senior leadership or business development staff, please email David LaFontaine, dlafontaine@navinhaffty.com.

MEDITECH will also be present at HIMSS. Visit them at booth #4165 where you can find out how 6.1 is transforming the way care is delivered every day.
In addition to all that is happening at the MEDITECH booth, they will also be participating in the Interoperability Showcase, March 1-3 p.m. at booth #11954.
Dr. Michael Fletcher, VP and CMO of Hancock Regional Hospital will discuss how patient registries can make your population health goals a reality on March 2nd at 1:45 p.m. in the Population Health Knowledge Center, booth #14104.
MEDITECH will be hosting its annual Customer Appreciation Event on Tuesday, March 1, from 7-10 p.m. at the Paris Hotel on the Chateau Rooftop. Register here and get ready to step into the City of Light and unwind during a Parisian night in Las Vegas.
2016 International MUSE Conference
Back to Top
The 2016 International MUSE Conference will be held in Orlando, FL from May 31 through June 3. NHA will exhibit again this and MEDITECH will be there to demonstrate their strategies for optimizing your system and to share how 6.1 Web EHR will transform the way your organization delivers care. More details on MEDITECH session information will be shared shortly. For now, visit the 2016 International MUSE Conference website for more event details and registration.
NHA is Hiring
Back to Top
To keep up with the demand from our clients, NHA continues to need excellent MEDITECH specialists. We have been named among the top 100 Best Places to Work in Healthcare by Modern Healthcare for the second consecutive year.
We believe there are significant advantages to being part of NHA. As part of the largest consulting company focused exclusively on serving the MEDITECH community, we enjoy an exceptional working relationship with MEDITECH, offer a collaborative work environment and treat each of our staff with respect. Our competitive compensation package includes exceptional medical insurance coverage as part of our extensive benefits as well as on-going education to maintain and develop skills and talent. Our employment approach and focus on long-term business relationships has led to an unparalleled record for consultant and client retention.
If you have interest in consulting and have solid MEDITECH experience with implementing one of their applications, please contact us. We have an outstanding mentoring program for new consultants and the best reputation in the MEDITECH community for training and development of our staff. We are the first company certified in the new MEDITECH READY implementation methodology, earning certification nearly two years prior to any other firm.
We are also interested in experienced consultants from other companies. As the largest company that works exclusively with MEDITECH, you would be supported as you continue to build your skills. In addition, our management approach has demonstrated a respect for our consultants and created a collegial atmosphere that encourages information sharing and support.
While we have a number of openings, at this time, we are particularly interested in candidates with strong project management experience (6.x preferred), 6.1 Revenue Cycle, HIM/SCA and 6.1 Ambulatory.
If you are interested please contact us at recruiting@navinhaffty.com or call us at 855-309-9334. See what positions are currently available by visiting the NHA Current Openings page.
Please note that at this time, we are only able to consider those able to travel up to 80% of the time. (Current employees of MEDITECH or of our clients cannot be considered.)
Client Job Board
Back to Top
If you are interested in exploring new positions at other organizations visit the client job board section of our website. This is a free service of NHA to the MEDITECH community. Currently, there are many postings from MEDITECH organizations. If you or a colleague are interested, take a look and see what's open.
If you would like to include your organization's listing on the NHA website, please email Kelly Tracy at ktracy@navinhaffty.com (Please note that as this is a courtesy to the MEDITECH community, we will not accept postings from recruiting companies.)
NAVIN, HAFFTY & ASSOCIATES
Back to Top
Since our inception, NHA's sole focus has been providing solutions that maximize the value of your MEDITECH EHR. The experience we have gained along the way has made us the largest and most respected MEDITECH consulting firm in North America. This exclusive focus has allowed us to provide clients with greater insight and understanding of MEDITECH's capabilities and the expertise to better deliver innovative tools, solutions, and strategies that improve your operational performance and enhance patient care quality. Our proven track record has positioned us to become MEDITECH's first and most experienced READY-certified consulting firm.
Our staff not only makes up the largest MEDITECH consulting team available, it is also comprised of the most experienced professionals in the industry. Our pool of 220+ consultants are some of the most seasoned professionals in the industry with an average 27 years in healthcare, 18 years of overall IT, 17 years of MEDITECH, and 10 years of consulting experience. By leveraging the combined expertise of our consulting team, NHA stands second to none and is uniquely positioned to meet the needs of any organization utilizing the MEDITECH EHR. Our proven track record of success has led to Best in KLAS awards for HIT Enterprise Implementation Leadership, Planning and Assessment, and Clinical Implementation Supportive.