February 2015
Thoughts from our President
Back to Top
Hopefully by now everyone is aware of MEDITECH's 6.x platform ranking 2014 Best in KLAS for the Community HIS market (under 200 beds). Further, MEDITECH's Client/Server BAR offering was Category Leader for Patient Accounting/Patient Management in the Community HIS market.
These results are a significant industry accomplishment. They also validate the positive perceptions we have reported over the past year on MEDITECH's solid improvements. This information should encourage those considering the migration to 6.x as well as reassure those who have already made the decision to move forward.
While KLAS' disclosure rules prohibit us from providing too much information, we suggest you view the rankings for yourself at www.klasresearch.com.
Congratulations to our friends at MEDITECH.
John Haffty, President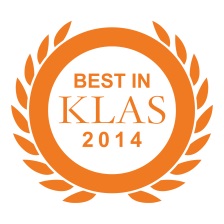 Navin, Haffty & Associates
2014 Best in KLAS Planning and Assessment
2014 Category Leader Staff Augmentation
KLAS: 2014 Year-End Rankings
Back to Top
Navin, Haffty & Associates (NHA) is extremely pleased to share its year-end KLAS rankings for the consulting services market. We achieved Best in KLAS in Planning and Assessment and earned Category Leader in Staff Augmentation. This is the second year in a row NHA ranked as one of the four best consulting companies (out of more than 100 rated). We scored high in five different categories, far more than any other consulting company providing services to the MEDITECH community!

NHA ranked:
First in Planning and Assessment (third in 2013)
First in Staff Augmentation (second in 2013)
Second (tied) in Technical Services (first year we are ranked)

Note that this category includes NPR and Report Designer/SQL report writing, interface testing and validation and pro-ration rules/contract management.

Fifth in Clinical Implementation Principal (fourth in 2013)
Twelfth in Clinical Implementation Supportive (fifth in 2013)

Note that this category has a large number of companies rated and actual scores are very close. As of February 6, our ranking improved to fifth.

In summary:
NHA continues to demonstrate consistency in rankings across a broad range of categories. While some consulting companies may have a strong ranking for a single year, few are able to maintain the level of performance over time. We are proud to be highly rated year after year.
Many think of NHA for MEDITECH implementation and application assistance. However our rankings in both the Planning and Assessment and Technical Services are significantly higher than any other consulting company providing services to the MEDITECH community.
We encourage you to view the KLAS rankings for yourself. Any provider organization that participates in their survey receives access to this information at no cost.

We'd like to thank those who took the time to provide feedback on our services to KLAS.
Benefits Realized! Achievements from READY Implementations
Back to Top
READY is MEDITECH's new implementation approach. Last month we started a series of articles highlighting benefits realized by the clients that have completed or are underway with READY projects. While some of these examples may have been accomplished independent of 6.x implementation, they underscore the value READY brings.

In January, we shared successes from the Emergency Department and Lab Services. This month we will focus on Nursing/Patient Care and Pharmacy.

Nursing/Patient Care Services
Captured all nursing changes via electronic documentation. Increasing charge collections rate and better supporting future auditability.
Use metrics from electronic patient care documentation to support Magnet status re-certification.
Transitioned from paper to electronic nursing documentation, improving quality of EMR, improving auditability against future RAC audits and enabling achievement of Meaningful Use (MU) status and incentive payment.
Using tablets, change of shift reporting has been automated, saving approximately 15 minutes per nurse per shift change.
Seamless clinical documentation integration between PCS, EDM and SUR allowed realization of "one query theory".
Clinical documentation workflow now triggers orders to appropriate consulting providers electronically, resolving accuracy and eliminating delays in consulting clinician referrals.
Hemodynamic monitor interface in critical care improved timeliness and accuracy of clinical documentation and improved nursing productivity.
Successful implementation of "Standard of Care" documentation complying with The Joint Commission measures.
Adopted new medication titration functionality, improving patient safety as well as nursing productivity.
MDS 3.0 now utilized effectively leading to submission files produced electronically, directly improving reimbursement.

Pharmacy
Reduced turnaround time for order verification and fulfillment.
Full documentation of allergy history is online, improving patient safety and reducing adverse events.
Significant increase in use of approved order sets, containing core measures, supporting successful MU Stage 2 achievement.
Implemented electronic submission of outpatient prescriptions, eliminating paper errors and improving tracking of these orders.
We hope this information provides inspiration on spotting opportunities within your current system and demonstrates where a migration to 6.x could provide value to your hospital. We will continue to share more details in various categories over the next few months. If you have specific questions regarding areas of benefit, let us know.
MU: Stage 1 MAGIC Reports
Back to Top
Yes there are still a few hospitals working toward achieving Stage 1. Recently, while assisting one of our MAGIC clients with this effort we found the various reports needed were no longer available on the MEDITECH website. Instead of going through all the steps to recreate them, our team of NPR specialists were able to pull reports they had previously archived. If you find yourself in such a position, contact us at NHA and we'd be glad to help.
Total Cost of Ownership Modeling
Back to Top
For those evaluating a migration to 6.x or considering the cost of another HCIS vendor you may want to read a recent article suggesting a ten year versus a five year cost of ownership model. Based on the premise that changing HCIS systems in less than ten years is unlikely, this article demonstrates that over time the annual software maintenance and internal labor support requirements can lead to significant cost differences. We find this interesting because many consulting firms still use a five year cost of ownership model that may be resulting in the misrepresentation of true costs.

Read more at Becker's Hospital Review.
IT Risk and Security Audits
Back to Top
The healthcare industry continues to face a challenge in data privacy and confidentiality. The cases of cyber-attacks against electronic health records have increased in the past few years. As patient information is computerized, many records become vulnerable to these cyber-attacks.

In an attempt to protect your organization against medical identification fraud, you also find yourself contending with a ton of insurance, industry standards, and government regulations.

We have been asked about conducting risk assessments regarding security and privacy. This is not our area of expertise but we have come across a company that offers a thorough approach for a reasonable fee.

Sentry Health Informatics has developed a methodology that has impressed us and we would suggest you consider them for these services. Sentry Health Informatics specializes in IT security and regulatory compliance. They can help your hospital or physician practice avoid security incidents and comply with important standards, regulations and guidelines, specifically HIPAA, MU, PCI-DSS and NIST-800-53.

Sentry Health Informatics provides the following services:
HIPAA Risk Assessment
Security Risk Analysis
Gap Analysis of Policies and Procedures
Proper Business Associate Agreement Management
Password Protected Documentation and Audit Tools
Assistance in Organizing Educational and Training Opportunities around Security and Privacy
Detailed Reports for Managers and Executives which satisfy HIPAA and MU audits
To learn more about their risk analysis and risk management process, contact them at info@sentryhealthcorp.com or call 888.532.5289.
MEDITECH's Nurse and Home Care Forum
Back to Top
Be sure to hold June 17-19 for MEDITECH's annual Nurse and Home Care Forum. This will be the inaugural event at their new state of the art conference center in Foxborough, MA. More information to come!
MEDITECH's Annual Events Calendar
Back to Top
In addition to the Nurse and Home Care Forum, MEDITECH is in the process of finalizing dates for their annual 6.x Peer-to-Peer Information Exchange, CIO Technology and Physician Forums. These will each be scheduled for the fall of 2015. We will update you as we receive more detail.
Planning for HIMSS 2015
Back to Top
If you are planning to attend HIMSS in Chicago on April 12-16, NHA will be present once again. Although we will not have a booth, our senior leadership team as well as other directors will be present. If you are interested in meeting with us during this conference, please email John Haffty, jhaffty@navinhaffty.com to schedule a time.

MEDITECH will also be present at HIMSS. Visit them at booth #6315, where you can see their groundbreaking web-based solutions, the 6.1 platform, their mobile solutions in action at the Mobility Bar, as well as meet some of the members of MEDITECH's growing Physician Team.

MEDITECH will be hosting its annual Customer Appreciation Event on Tuesday, April 14, from 7-10 p.m. at Moe's Cantina. This year's theme is the Roaring Twenties. Register here and get your fedora and flapper dresses ready.
Registration Open: MUSE International Conference
Back to Top
The annual MUSE International Conference will be held at Gaylord Opryland Resort & Convention Center in Nashville, TN from May 26 – 29. Registration is now open and must be completed by March 1 to receive the early bird discount.

Hoda Sayed-Friel, MEDITECH's executive vice president, will be the keynote speaker on Thursday morning of this conference. We will share more details as the event approaches.
Client Job Board
Back to Top
If you are interested in exploring new positions at other organizations visit the client job board section of our website. This is a free service of Navin, Haffty & Associates to the MEDITECH community. Currently, there are many postings from MEDITECH organizations. If you or a colleague are interested, take a look and see what's open.
If you would like to include your organization's listing on the Navin, Haffty & Associates website, please email Kelly Tracy at ktracy@navinhaffty.com (Please note that as this is a courtesy to the MEDITECH community, we will not accept postings from recruiting companies.)
NAVIN, HAFFTY & ASSOCIATES
Back to Top
Since our inception, Navin, Haffty & Associates' sole focus has been providing solutions that maximize the value of your MEDITECH EHR. The experience we have gained along the way has made us the largest and most respected MEDITECH consulting firm in North America. This exclusive focus has allowed us to provide clients with greater insight and understanding of MEDITECH's capabilities and the expertise to better deliver innovative tools, solutions, and strategies that improve your operational performance and enhance patient care quality. Our proven track record has positioned us to become MEDITECH's first and most experienced READY- certified consulting firm.

Our staff not only makes up the largest MEDITECH consulting team available, it is also comprised of the most experienced professionals in the industry. Our pool of 250+ consultants are some of the most seasoned professionals in the industry with an average 14 years of MEDITECH, 18 years of overall IT, 6 years of consulting, and 20 years of EHR/HCIS experience. By leveraging the combined expertise of our consulting team, Navin, Haffty & Associates stands second to none and is uniquely positioned to meet the needs of any organization utilizing the MEDITECH EHR. Our proven track record of success has led to Best in KLAS rankings for Planning and Assessment and Category Leader for Staff Augmentation.