December 2015
Thoughts From Our President
Back to Top
"At times our own light goes out and is rekindled by a spark from another person. Each of us has cause to think with deep gratitude of those who have lighted the flame within us." – Albert Schweitzer

This quotation was recently shared with me and I believe it provides a refreshing reflection given the challenges and difficulties many experience in life and those noted on national and world news.

As we come to the end of another year, we reflect and give thanks to everyone who has supported us. We are thankful to those who help re-light our flame.

May your holidays be joyful.

John Haffty, President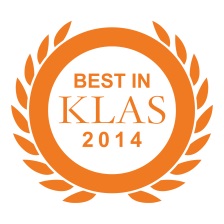 Navin, Haffty & Associates
2014 Best in KLAS Planning and Assessment
2014 Category Leader Staff Augmentation
ICD-10 Update
Back to Top
Last month we reported minimal issues with the transition to ICD-10, and since it was still early, we promised to report on the billing impact in this month's newsletter. To date we are not hearing of any significant issues among our clients and friends. We have heard from several that they are seeing a minor increase in rejected claims based on coding issues, but the estimate of a 1-2% increase in initial rejections holds steady. Again some payers appear to be more tolerant of non-specific codes at this time, but no major issues or challenges appear to have occurred.
Surveillance: Why MEDITECH 6.1?
Back to Top
Some hospitals using MAGIC or C/S ask us for reasons to switch to the 6.1 platform. While much has been made of the high adoption by physicians, Graphical User Interface (GUI) and the new Ambulatory product (now LIVE at its second early adopter site), there are many other strong reasons to consider 6.1 that have been less publicized. We believe that the new surveillance capabilities embedded in the clinical applications are among the more significant features of the 6.1 suite. Note that this is part of the 6.1 Quality Management application.

Here is some information to consider:

Surveillance allows an organization to build selected clinical values and value ranges to identify patients that may be deteriorating or developing a specific disease. Using sepsis as an example, the current mortality rate of patients is 50%. If we could identify at-risk patients even one day sooner, some believe the mortality rate would fall to 25% or less. If the patient triggers any of the clinical values or ranges that are established as indicators, the surveillance tool identifies the change in vital signs or lab work (for example), and based on an organization's decision, can add the patient to a monitoring list using the Surveillance application or display a warning flag on the ED/SUR/PCS status board or a separate sepsis focused status board.

MEDITECH will continue to add clinical decision support features such as the recently added CAUTI toolkit. Using both active and passive surveillance capabilities provides one of the strong business case justifications for moving to 6.1 as these features have the power to both improve the outcome of care while reducing the cost of treatment.

Navin, Haffty & Associates (NHA) will provide further reasons to consider 6.1 in upcoming issues of this newsletter.
6.1 Migration: Budget Considerations
Back to Top
Version 6.1 represents an opportunity to completely re-implement how an EHR is built. Your organization can now re-design workflows and processes to make dramatic improvements in both effectiveness and productivity. As it may have been some time since you have worked through agreements and/or done so in an integrated fashion, we recommend you keep the following items in mind now that MEDITECH has an integrated Ambulatory and acute care system:
Additional third party license fees – If you are implementing Ambulatory, note that some third party vendors, such as First Databank, require a contract for each provider using this application. Make sure to ask your current or future vendors if there are additional fees.

Interfaces – Your hospital will likely maintain a number of interfaces to third party systems. Make sure to determine if there is a cost for updating your existing interfaces to work with 6.1

Forms automation – While most hospitals already have a forms automation product, some functionality that existed in MAGIC and C/S is now expected to be provided by your forms automation vendor. Make sure these capabilities are there and determine if there are any additional costs or fees.

Hardware upgrades for other products – The added complexity of some interfaces may push the hardware performance on these applications. Review with vendors to determine if additional hardware or technology is needed.

Internal labor and consulting – Including the design phase, these projects can take over a year. Given the size of the effort and the length of time, some of your key internal staff may not be around by the end of the project due to life events or other reasons. Having the ability to draw on back-up internal resources or having a budget for unplanned vacancies often proves useful.

Contingencies – It is wise to add a significant percentage of the total identified cost of the project budget as a contingency. There will always be unknown items that arise in the course of a complex project with a long duration and having a substantial contingency provides a cushion against these unforeseen costs.
While it can be challenging to present your organization with a large project budget, it is always best to avoid going back for additional funding after a project has commenced.
Anderson Regional's 6.1 Migration Achieves Goal of Fully Integrated EHR
Back to Top
One of the success stories of MEDITECH's 6.1 and READY implementation methodology has been Anderson Regional Medical Center, a 400-bed healthcare system in Meridian, MS. Recently Steve Taylor, CIO, stated:
"We felt that an integrated system was a must. With our MEDITECH 6.1 solution, we are already seeing workflow efficiencies, quality improvements, and improved financial performance reporting. Together, we worked through the transformational process to reach our purpose—achieving a fully integrated EHR. I can't say enough about the READY methodology."
Below is an abbreviated version of their journey:
Keeping pace with organizational growth and endeavoring to be well positioned for the future, Anderson Regional Medical Center leadership made a strategic decision to migrate from the MEDITECH MAGIC EHR it had been utilizing for 18 years to the state-of-the-art MEDITECH 6.1 platform. Anderson's leadership set out with a goal of implementing a fully integrated EHR and saw the introduction of MEDITECH's READY implementation plan, as well as MEDITECH's solid integration history, as offering an ideal path in fulfilling that goal. It would also position Anderson to achieve Meaningful Use and other business and patient care goals. 
For the rest of this story, visit NHA's website.
Meaningful Use Alert
Back to Top
In the revised Meaningful Use criteria approved in October 2015, The Centers for Medicare & Medicaid Services (CMS) retained the "Transitions of Care" criterion that relates to the electronic transmission of a Summary of Care (SOC) when a patient is transitioned to another care setting.

For Stage 2 sites, in 2015, 2016 and 2017, >10% of transitions and referrals must have an SOC transmitted to the receiving provider or facility. For Stage 1 sites in 2015, there is no requirement for transmission of an SOC. Stage 1 sites in 2016 and 2017 must have >10% of transitions and referrals electronically transmitted.

Prior to the October approved changes, sites were allowed to determine if an inpatient's discharge would require the transmission of an SOC if there was not a specific referral (e.g., a discharge to home). As part of the approved changes, CMS now requires that all inpatient discharges be counted in the denominator of the measurement.

This change will be reflected in MEDITECH's SQL reports for MAGIC, C/S, and 6.x that may be found on their ARRA Best Practices web pages. If sites need to determine their compliance level prior to these reports being available, MEDITECH recommends the following:
Sites should ensure the configuration table parameter for UB code

SummaryOfCareExcludeHome

is set to "CHAR(248)". The following code will set the parameter to "CHAR(248)" if it is currently set to discharge to home "(UB code 01)":

UPDATE dbo.mtzcus_2014_CoreMenuReportConfigurationTable
SET ParameterValue = CHAR(248)
WHERE ParameterName = 'SummaryOfCareExcludeHome'
AND EnvironmentID = 'CONFIG1'
AND ParameterValue = '01';
Update: KLAS
Back to Top
As we approach the end of the year, NHA continues to be highly rated in multiple KLAS categories. In each category shown below we rank higher than every other MEDITECH consulting company. In fact, we are ranked among the leaders for the entire healthcare IT consulting community!

As of December 7, here are our rankings:
1st – HIT Enterprise Implementation Leadership
2nd – IT Advisory Services
2nd – Technical Services
8th – HIT Implementation Support and Staffing

Below is a recent comment:
"The only issue I have with Navin, Haffty & Associates is that they only do MEDITECH work. The people from Navin, Haffty & Associates are really great to work with. They always deliver what they say they will deliver. I have no complaints whatsoever." – Executive, November 2015
Please note selected commentaries may not represent the whole of provider sentiment related to this product or service. Visit KLASresearch.com for a complete view.
NHA is Hiring
Back to Top
To keep up with the demand from our clients, NHA continues to need excellent MEDITECH specialists. We have been named among the top 100 Best Places to Work in Healthcare by Modern Healthcare for the second consecutive year.
We believe there are significant advantages to being part of NHA. As part of the largest consulting company focused exclusively on serving the MEDITECH community, we enjoy an exceptional working relationship with MEDITECH, offer a collaborative work environment and treat each of our staff with respect. Our competitive compensation package includes exceptional medical insurance coverage as part of our extensive benefits as well as on-going education to maintain and develop skills and talent. Our employment approach and focus on long-term business relationships has led to an unparalleled record for consultant and client retention.
If you have interest in consulting and have solid MEDITECH experience with implementing one of their applications, please contact us. We have an outstanding mentoring program for new consultants and the best reputation in the MEDITECH community for training and development of our staff. We are the first company certified in the new MEDITECH READY implementation methodology.
We are also interested in experienced consultants from other companies. As the largest company that works exclusively with MEDITECH, you would be supported as you continue to build your skills. In addition, our management approach has demonstrated a respect for our consultants and created a collegial atmosphere that encourages information sharing and support.
While we have a number of openings, at this time, we are particularly interested in candidates with strong project management experience (6.x preferred), 6.1 Revenue Cycle, HIM/SCA and 6.1 Ambulatory.
If you are interested please contact us at recruiting@navinhaffty.com or call us at 855-309-9334. See what positions are currently available by visiting the NHA Current Openings page.
Please note that at this time, we are only able to consider those able to travel up to 80% of the time. (Employees of MEDITECH or of our clients cannot be considered.)
Client Job Board
Back to Top
If you are interested in exploring new positions at other organizations visit the client job board section of our website. This is a free service of NHA to the MEDITECH community. Currently, there are many postings from MEDITECH organizations. If you or a colleague are interested, take a look and see what's open.

If you would like to include your organization's listing on the NHA website, please email Kelly Tracy at ktracy@navinhaffty.com (Please note that as this is a courtesy to the MEDITECH community, we will not accept postings from recruiting companies.)
About NHA
Back to Top
Since our inception, NHA's sole focus has been providing solutions that maximize the value of your MEDITECH EHR. The experience we have gained along the way has made us the largest and most respected MEDITECH consulting firm in North America. This exclusive focus has allowed us to provide clients with greater insight and understanding of MEDITECH's capabilities and the expertise to better deliver innovative tools, solutions, and strategies that improve your operational performance and enhance patient care quality. Our proven track record has positioned us to become MEDITECH's first and most experienced READY-certified consulting firm.

Our staff not only makes up the largest MEDITECH consulting team available, it is also comprised of the most experienced professionals in the industry. Our pool of 220+ consultants are some of the most seasoned professionals in the industry with an average 14 years of MEDITECH, 18 years of overall IT, 6 years of consulting, and 20 years of EHR/HCIS experience. By leveraging the combined expertise of our consulting team, NHA stands second to none and is uniquely positioned to meet the needs of any organization utilizing the MEDITECH EHR. Our proven track record of success has led to Best in KLAS rankings for Planning and Assessment and Category Leader for Staff Augmentation.