August 2016
Thoughts From Our President
Back to Top
"The New MEDITECH" is a phrase we are hearing a bit lately. While they continue on their journey to deliver a mobile, web-based solution across the continuum of care, we are seeing a number of actions that suggest the changes go beyond just software plans. Some recent events of note include:
There are a group of hospitals that are migrating from C/S to 6.1 that are working closely with MEDITECH's development team. They are conducting monthly hands-on, in-person working sessions to ensure the 6.1 functionality combines the best of C/S with the new technology and capabilities within 6.1.

To ensure that the 6.1.6 release of WebAcute and WebED are smooth, an outside company has been invited to fully test not only the functionality but the workflows and user interface. In July, there were nine members of this company on-site for a week of working directly with MEDITECH's development team.

MEDITECH has embraced a variety of new vehicles to increase the visibility of its products and related successes through stepped-up marketing efforts, including traditional interviews as well as social media.
We continue to be encouraged by the changes coming from MEDITECH.

In closing, hoping all of you are getting to enjoy a little bit of summer.

John Haffty, President
MEDITECH Oncology Delivers for Marion General
Back to Top
We want to recognize our friends at Marion General Hospital, Marion, Indiana, for their recent implementation of Oncology. They are running C/S 5.6.7 and have brought LIVE some significant new functionality. Their team worked very closely with MEDITECH and NHA to ensure this success. Among the key features are:
Ease of use for treatment plan ordering

Streamlined workflows for both oncologists and nursing staff

Allowing mid-level practitioners to place orders with co-signatures
This effort included extensive parallel testing to ensure they had worked through process changes, giving great confidence to all clinicians that the data was accurate and the processes were optimized. The end result is that clinicians are getting a faster and more complete picture of each patient's care plan and results, improving both the quality and efficiency of care.
MEDITECH's Business and Clinical Analytics Product Advances
Back to Top
MEDITECH's Business and Clinical Analytics product is live at three C/S early adopter sites and was recently delivered to its first 6.1 early adopter. In total, MEDITECH has signed contracts with eight C/S organizations and more than thirty 6.1 organizations. The following are excerpts from MEDITECH's product information:

What is Business & Clinical Analytics?
MEDITECH's Business and Clinical Analytics (BCA) solution is a web-based business intelligence dashboard solution that enables organizations to visualize and use data to drive operational efficiency, maximize financial performance, and improve patient outcomes. Business and Clinical Analytics emphasizes actionable business and clinical performance drivers. Dashboard views feature the ability to explore supporting levels of detail to understand root causes of issues. Executives, Directors, and Managers can use a variety of selectors to slice data by different time periods, providers, payers, patient classes, clinical conditions, etc. The solution serves as a front end to our Data Repository (DR). To power the visual displays, a query optimized database was built alongside the DR to normalize pertinent data for analysis. Data moves from the transactional system (HCIS) to the DR as the first step. Extract, Transfer, Load (ETL) routines were created to pull data from DR to the query optimized database, which are then used to render the visual displays.
The BCA package is delivered with two components:
1. Standard content dashboard views
2. A Visual Insight tool that allows for customer creation of dashboards

What will BCA do for your Organization?
Empower users to visualize data to focus on actionable business & clinical drivers

Improve financial performance, operational efficiencies, and clinical outcomes

Efficient reporting through the query optimized data model. Expertise in this data model can only be achieved by MEDITECH

Provision of standard content dashboards across functional areas, and a commitment to continuous content development

Inclusion of the Visual Insight tool for customer created content

Enable analysis of data across departments/disciplines

One example of the capabilities is the pre-build Outcomes Summary, which has a focus on re-admissions. Again, the following is from MEDITECH's product information:

An Outcomes Summary dashboard allows Quality Directors to analyze readmissions and mortalities by condition, and prevalence of specific hospital acquired conditions. Comparisons to the previous month, as well as the prior two years, allow for the tracking of improvements and identification of patterns (e.g., higher readmit rates based on seasonality).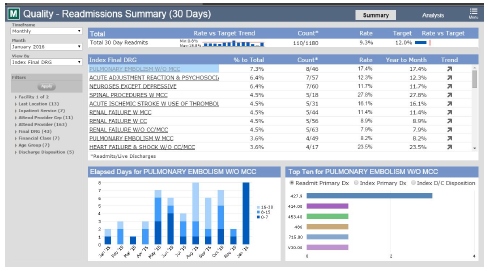 At a more detailed level, Quality Directors can examine readmission rates by DRG, inpatient service, or attending provider, including the ability to launch to patient level detail. Organizations can set targets for their overall readmission rates, and can see the top readmit primary diagnoses and discharge dispositions, as well as the days post discharge that the readmit events are occurring.

If you'd like more information, click here
MEDITECH Requirements for Meeting MU Stage 3
Back to Top
Across the landscape of federal regulations and legislation, there does not seem to be anything more subject to change than the EHR incentive programs. Within the last month CMS has proposed to:
Reduce the 2016 reporting period to 90 days, although we are six months into the year, and attestation is not possible until other 2016 proposed changes have been approved or rejected.

Eliminate CDS and CPOE requirements in 2017 from Medicare-attesting facilities (although Medicaid attesting sites will still have these requirements). Hospitals and providers will need to continue to track and enforce compliance internally in order to support patient care and patient safety goals, as well as support other initiatives, such as ePrescribing, discharge management and the sharing of records and information with HIEs and other facilities.

Consider a delay in the implementation of MACRA. Although MACRA and MIPS/APM are directed toward providers, hospitals that own physician practices, or bill on behalf of providers, will need to consider how to support physicians with technology and business practice improvements relating to MACRA.

So on any given day, most hospitals and providers would probably state that the current regulations can be enigmas, and what will occur in the next six months would be speculation at best.

Regardless, EHR vendors must assume that the most stringent requirements will be in effect. For hospitals and Meaningful Use Stage 3, this means that changes to systems must be available to clients in time to have sites fully positioned and in production before January 1, 2018.

MEDITECH has released a series of steps and actions that sites must take in order to position themselves to meet Stage 3 requirements successfully. The following is a summary of the information found on the MEDITECH ARRA Bulletin Board in the June 15, 2016 document, Update: Preparing for Stage 3 of Meaningful Use.

Hospitals must have a hardware evaluation conducted as one of their first steps, and MEDITECH is planning to conduct an evaluation for each site beginning in October 2016. Because there is additional functionality required to meet Stage 3, MEDITECH has indicated that, at minimum, additional storage will be needed.

There are multiple certified releases for Meaningful Use Stage 3. In order to meet Stage 3 requirements, sites will need to be on one of the following versions:
MAGIC version 5.67

Client/Server version 5.67

6.x versions 6.08, 6.15 or 6.16
MEDITECH will deliver certified code during the first half of 2017. For sites already utilizing a certified version, a priority pack update that will bring those sites into compliance will be scheduled in the fall of 2017.
Consideration will need to be made for patient portal-related requirements. MEDITECH is requiring 6.x sites to be at version 2.01 of the Patient and Consumer Health Portal (PHM) in order to have Stage 3 functionality. For sites that are not using PHM as their patient portal, check with your third-party portal vendor to ensure their product is Stage 3 compliant for providing Secure Messaging services. MEDITECH utilizes PHM's messaging features to provide the functionality needed to meet the Secure Messaging criteria.
MEDITECH feels that interface projects directed toward Stage 3-required interoperability will comprise the most intensive part of a site's Stage 3 preparation and dedicated resources will be needed to accomplish everything necessary to meet the various requirements. In addition to updates to existing interfaces used to meet Stage 2, there are new requirements for the content and construction of CCDs, as well as new document types, e.g., discharge summaries. There are also changes being required for existing public health submissions, such as two-way communication between immunization registries and a site's EHR, and additional data requirements for syndromic surveillance submissions. Further interface and interoperability changes are also being required for functionality relating to API infrastructure and for Direct Transport standards.
With all of the changing requirements for interoperability, MEDITECH suggests that planning begin well in advance of target deadlines and discussions with your MEDITECH sales team be conducted to determine site-specific requirements, fees and licensing. In conjunction with this, discussions with any third party vendors should be made in the same timeframe.
MU Alert Correction
Back to Top
In last month's MU Alert, we misstated that CMS is proposing to eliminate the Clinical Decision Support and CPOE measures for Medicare attesting facilities in 2016. The proposal is to eliminate these two measures beginning in 2017. Our apologies for the mistake.
2016's Most Wired
Back to Top
NHA would like to congratulate our active and recent clients that were recognized by Hospitals and Health Networks on their 2016 Most Wired list:
Avera Health, Sioux Falls, South Dakota

Beaufort Memorial Hospital, Beaufort, South Carolina

Bristol Hospital, Bristol, Connecticut

CHRISTUS Health, Irving, Texas

Cook Children's Health Care System, Fort Worth, Texas

Emerson Hospital, Concord, Massachusetts

Exeter Health Resources, Exeter, New Hampshire

Grand View Health, Sellersville, Pennsylvania

Hallmark Health System, Melrose, Massachusetts

Hancock Regional Hospital, Greenfield, Indiana

Kootenai Health, Coeur D'Alene, Idaho

Marion General Hospital, Marion, Indiana

North Cypress Medical Center, Cypress, Texas

Northwestern Medical Center, Saint Albans, Vermont

Saratoga Hospital, Saratoga Springs, New York

St. Luke's Cornwall Hospital, Newburgh, New York

Tri-State Memorial Hospital, Clarkston, Washington

Valley Health System, Ridgewood, New Jersey

Check out H&HN's website for a full listing of honorees.
KLAS Rankings
Back to Top
Each month we share our KLAS rankings and some comments from clients. We believe KLAS provides the best representation on how vendors are performing in the eyes of their clients. We hope this serves as a reminder to check KLAS rankings and commentary when considering a consulting company.

In every category we score above the industry average. As of August 2, here are our rankings:

3rd – HIT Enterprise Implementation Leadership – We were awarded "Best in KLAS" for this category for 2015/2016. Please note that only one other MEDITECH READY certified company is even ranked in this category, and our score is actually higher today than when we were selected for the Best in KLAS award.

2nd – Technical Services – Our score has improved since year-end as well. This category covers report writing, data repository and proration rules services.

12th – IT Advisory Services – Previously known as Planning & Assessment, where we were "Best in KLAS" for 2014.

14th – HIT Implementation Support and Staffing – for small READY implementations and backfill resources. Note that our score is both higher than every other MEDITECH consulting company as well as higher than our year-end score.

Selected Comments from July 2016:

"Navin, Haffty & Associates has top-notch talent with ethical, fair and reliable leadership. The vendor provides excellent services. They absolutely are the best MEDITECH services firm in the country." Executive

"Navin, Haffty & Associates did an overall assessment, and now we have about a year's worth of work to do. To ensure that we stay on track, we meet with a project manager weekly to go over our progress. Our project manager gives us insight into how we are doing and tells us whether there is something we could do differently. This arrangement is not something that Navin, Haffty & Associates typically does, but they have been willing to work with us. We really feel like they want us to be successful." Executive

"Navin, Haffty & Associates definitely has subject matter experts who are very experienced and who have a depth of information. Some are stronger than others, but I like the way they get involved and engage in the project. Because they have such a depth of experience, they really understand and can speak to our needs. Because they understand our needs, they can talk clinically about the issues and provide a lot of insight as to what other organizations are doing. The subject matter experts are clinicians, so they understand how to help us build workflows" Executive

"Navin, Haffty & Associates identified some issues we were having with billing, and they implemented some enhancements to improve the workflow. They helped us design the workflow, and then they reviewed it. They also provided training to help us learn how to use the new workflow." Executive

Please note selected commentaries may not represent the whole of provider sentiment related to this product or service. For a complete view, visit KLASresearch.com.
Quick Notes
Back to Top
MEDITECH's CEO, Howard Messing, gave an interview with HIStalk, describing "The New MEDITECH." To read this interview, click

here

.

Grand View Hospital, Sellersville, Pennsylvania, converted from C/S to 6.1 on July 1. This included the first conversion of the LSS MPM to the new 6.1 Ambulatory product. Congratulations to Jane Loveless, CIO, and the entire team at Grand View. NHA is proud to have been part of this success.

Jodi Frei, Manager of Organizational Informatics, talks about Northwestern Medical Center's transition to 6.1.6 and plans to host a MUSE site visit in the fall on the MUSE website blog. For the full story, click

here

.
MEDITECH's Physician and CIO Forum – October 20-21
Back to Top
Last year MEDITECH combined its Physician and CIO Forums into one session, which was a huge success, providing significant education and helping bridge the understanding of the needs of physicians with the challenges of CIOs. They are repeating this format this year on October 20 and 21 at their new conference center in Foxborough, Massachusetts. Registration is open, and MEDITECH has announced the keynote speakers for this event.

CloudWave, Forward Advantage, and NHA will again co-sponsor a welcome reception for attendees the evening before the forum gets underway. The reception will be held October 19 at Bar Louie in Foxborough from 6 to 9 p.m. To request your invitation for the event, please contact Susan LaVita.
Client Job Board
Back to Top
If you are interested in exploring new positions at other organizations visit the client job board section of our website. This is a free service of NHA to the MEDITECH community. Currently, there are many postings from MEDITECH organizations. If you or a colleague are interested, take a look and see what's open.
If you would like to include your organization's listing on the NHA website, please email Katie Kelly at kkelly@navinhaffty.com. (Please note that as this is a courtesy to the MEDITECH community, we will not accept postings from recruiting companies.)