August 2015
Thoughts From Our President
Back to Top
Some exciting news has been announced regarding MEDITECH's Business & Clinical Analytics solution. It's been delivered to two C/S sites with initial usage to occur this month. The Business & Clinical Analytics solution is a MEDITECH implementation that overlays their Data Repository (DR). They will roll out the various standard content dashboards.

We are pleased to report this news as this product has been the focus of much development and discussion. More information on Business & Clinical Analytics will be shared at MEDITECH's Physician and CIO Forum, November 5 – 6.

John Haffty, President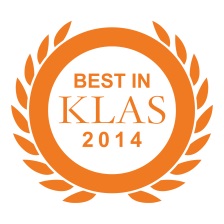 Navin, Haffty & Associates
2014 Best in KLAS Planning and Assessment
2014 Category Leader Staff Augmentation
Update: KLAS
Back to Top
On July 29, 2015 KLAS released a new study titled "MEDITECH Enterprise Medical Record: Providers Looking Forward to MEDITECH 6.1 Release." The following is from the announcement:
"Providers have a positive outlook with regard to the future of MEDITECH. Most are looking for a truly integrated piece when C/S 6.1 is released. A CIO commented, "The ambulatory module, for example, has a whole new look and feel. It is truly web based, and it looks better than anything else I have seen, so I am looking forward to…"
If you are interested in this study, contact KLAS at www.klasresearch.com.

In addition to letting you know about KLAS' new study we have an update on Navin, Haffty & Associates' (NHA) rankings as of August 21, 2015:

Out of all KLAS rated vendors, NHA is currently ranked:
• 1st – Implementation Clinical – Principal
• 2nd – Staff Augmentation, winning 2014 KLAS "Category Leader"
• 2nd – Technical Services
• 3rd – Planning and Assessment, winning 2014 "Best in KLAS"
• 6th – Implementation Clinical – Supportive, winning 2012 "Best in KLAS"

Below are recent comments by KLAS category from NHA clients. Please note selected commentaries may not represent the whole of provider sentiment related to this product or service. Visit KLASresearch.com for a complete view.
Implementation Clinical – Principal (July 2015)
CIO: "The people that Navin, Haffty & Associates provide have a deep understanding of how MEDITECH products function and how to best utilize and optimize them in our environment. NHA is also able to leverage their relationship with MEDITECH to make sure we are heard and have issues resolved in a positive way. We won't use anyone else for our MEDITECH work."
Implementation Clinical – Supportive (August 2015)
CEO/President: "NHA is very well versed in our systems. They know the systems better than the folks the vendors sent out. NHA listens to us and works with us. They are helping us reach our goals and are taking us to the next level with our products."
Planning and Assessment (August 2015)
CEO/President: "NHA helped us with our planning and assessment for our enterprise-wide clinical system. They did a great job helping us with the project. NHA is a top-notch company, and I would recommend them to anybody. Using them was one of the best decisions I have ever made."
Staff Augmentation (August 2015)
Analyst/Coordinator: "One thing we have really liked about Navin, Haffty & Associates is that they know MEDITECH pretty well. Most of the consultants we have received have been great. We haven't really had one that was a dud, so I feel like Navin, Haffty & Associates is up and running quickly, and I think they are pretty authentic. If they say a person has certain experience, then that person turns out to have that experience. They are pretty up front about what their resources can and can't do so that there are no surprises."

Analyst/Coordinator: "We have been pleased with Navin, Haffty & Associates' expertise and customer service. The consultants we have used from NHA have been authentic."
To read more comments about our services visit the "KLAS: Special Study Released" article from last month's newsletter.
MEDITECH Website: Physician Connection Accessibility Updated
Back to Top
From the MEDITECH website:

"With our redesigned website, the Physician Connection is now easily accessible via the menu on the right-hand side of the Customer Service Portal. Bookmark this page to have MEDITECH's physician resources at your fingertips."
Last Minute ICD-10 Preparation
Back to Top
The ICD-10 compliance date is quickly approaching. Are you prepared? Below we list critical activities to address during the final weeks leading up to October 1, 2015.
Critical Activities
"To Do's"
Has testing been completed with all major payers, those responsible for 80% of all claims?
Identify

major

payers that have not been tested or where very limited testing has been done. Contact them for testing. Has there been CMS acceptance testing? There's still time.
Did payer testing include claims adjudication and processing? Have edits and denials been addressed?
Identify

major payers

where claims adjudication has not been done and where edits or denials have not been addressed. Contact these payers for testing.
Have test accounts been selected from high volume diagnoses and procedures for all services?
Determine if the HIM department generated a diagnoses and procedure volume ranking. If not, generate a report and compare the high volume codes to those accounts that have been tested. Contact payers to test those that have been over-looked. If high-volume diagnoses have not been tested, the impact from problems post 10/1 could be very high.
Is there a strong denials process in place including responsibilities for analyzing and resolving ICD-10 issues?
Create an action plan with responsibility for processing ICD-10 denials. The objective would be to resolve processes or coding issues causing denial as quickly as possible.
Is the volume of medical necessity denials high?
Identify the department or service with the highest dollar denial. Focus efforts to reduce this prior to 10/1.
What are the total charges on the coding DNFB (Do Not Final Bill/Code)? Can this be significantly reduced prior to 10/1? Is coding backlogged in the daily work?
Create a current DNFB report to analyze accounts by coding hold reason. Dedicate appropriate staff to resolve issues for coding. For example, if coding is held due to LAB medical necessity, contact LAB management to determine best handling of these accounts; have CDI follow up on outstanding physician queries.
Obtain additional coding staff, overtime or outsource if possible.
Based on our most recent information, CMS will require split claims so all ICD-9 codes remain on one claim with dates of service through 9/30/15 and all ICD-10 codes placed on the other claim with DS on or after 10/1/15.
Define an action plan and responsibilities in coding and billing for all accounts that will have service dates pre or post 10/1/15 to minimize the scrambling and confusion that may occur when these accounts are ready for coding and billing.
Is Physician Documentation meeting coding needs for ICD-10? Are CDI or Coding Queries replacing Physician Documentation?
Evaluate the high volume queries, i.e. CHF, pneumonia to determine if the documentation can be created in PDoc. This allows the physician to document all needed data for ICD-10 coding decreasing the number of queries.
Have prior authorizations for services 10/1 and after been assigned ICD-10 codes?
Determine which accounts need ICD-10 codes and contact payers for their process.
Nuance Announces Dragon Medical Direct
Back to Top
We recently became aware of a cloud based version of Dragon Medical 360 that may be of interest. We know many of our readers already use Dragon and others are considering it. In addition to the many benefits of being cloud based, it has other advantages worth considering:
No capital investment as it is subscription-based
Product support and maintenance is through Nuance, reducing demand on IT staff
Individual user speech profiles, including custom vocabularies and templates
If you are interested in more information contact your Nuance representative.
MEDITECH Events
Back to Top
MEDITECH On the Road Event
MEDITECH has scheduled the following locations and dates for "MORE" (MEDITECH On the Road Event). During this one day event you will:
Learn strategies for getting MORE from your current MEDITECH system
Discover how MEDITECH's clinically sophisticated tools are redefining productivity
Hear from customers who've made the move to MEDITECH's bold new platform
September 30 – Toronto, ON
October 6 – Kansas City, MO
October 8 – Indianapolis, IN
November 17 – Monterey, CA
November 19 – Marina del Rey, CA
6.x Peer-to-Peer Information Exchange
This event is now open for
registration
and will be held at MEDITECH's new conference center in Foxborough, MA on September 16 – 17. A list of initial
topics
has just been released. Sessions will highlight clinically sophisticated tools, customer successes, and MEDITECH's groundbreaking new platform.
Physician & CIO Forum
MEDITECH is combining its CIO/Technology and Physician Forums into one event this year. It will be held November 5 – 6.
Registration
is open. It's not too early to get this on the calendar for your key physicians, CMOs and CMIOs.
Client Job Board
Back to Top
If you are interested in exploring new positions at other organizations visit the client job board section of our website. This is a free service of Navin, Haffty and Associates to the MEDITECH community. Currently, there are many postings from MEDITECH organizations. If you or a colleague are interested, take a look and see what's open.
If you would like to include your organization's listing on the Navin, Haffty & Associates website, please email Kelly Tracy at ktracy@navinhaffty.com (Please note that as this is a courtesy to the MEDITECH community, we will not accept postings from recruiting companies.)
NAVIN, HAFFTY & ASSOCIATES
Back to Top
Since our inception, Navin, Haffty & Associates' sole focus has been providing solutions that maximize the value of your MEDITECH EHR. The experience we have gained along the way has made us the largest and most respected MEDITECH consulting firm in North America. This exclusive focus has allowed us to provide clients with greater insight and understanding of MEDITECH's capabilities and the expertise to better deliver innovative tools, solutions, and strategies that improve your operational performance and enhance patient care quality. Our proven track record has positioned us to become MEDITECH's first and most experienced READY-certified consulting firm.
Our staff not only makes up the largest MEDITECH consulting team available, it is also comprised of the most experienced professionals in the industry. Our pool of 240+ consultants are some of the most seasoned professionals in the industry with an average 14 years of MEDITECH, 18 years of overall IT, 6 years of consulting, and 20 years of EHR/HCIS experience. By leveraging the combined expertise of our consulting team, Navin, Haffty & Associates stands second to none and is uniquely positioned to meet the needs of any organization utilizing the MEDITECH EHR. Our proven track record of success has led to Best in KLAS rankings for Planning and Assessment and Category Leader for Staff Augmentation.