April 2015
Thoughts from our President
Back to Top
We are proud to be perceived as "close to MEDITECH." We believe facilitating collaboration with them serves the best interest of our clients. On occasion prospective clients have selected a competing vendor because they believe the competing vendor will challenge MEDITECH more than Navin, Haffty & Associates (NHA) would. NHA does challenge MEDITECH, and MEDITECH challenges NHA, but these discussions are always in private and focused on resolving issues while maintaining respect. We strongly believe the key to long-term success between vendor and hospital is based on trust and when consulting companies put on a public show to challenge a vendor it fosters negativity.
These thoughts came to mind when I received the following email from a 260 bed hospital that recently went LIVE with 6.1 using MEDITECH's new READY methodology:
"The CEO's report to the board late this afternoon was positive, stating that across the board this implementation has exceeded expectations…The collaboration and team work being demonstrated between our hospital, MEDITECH and NHA is truly outstanding. We are seeing the results of these teams working closely together over the past several months. There is trust, respect and a unified goal of success. This is quite impressive to witness."
We expect to share more from this client in the future but for now we will respect their privacy so they are not inundated with calls as they complete their Go-LIVE process.
In conclusion, we believe collaboration, trust and respect are keys to long-term successful relationships and believe this approach delivers the greatest value from business partners.
John Haffty, President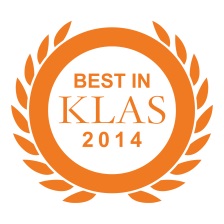 Navin, Haffty & Associates
2014 Best in KLAS Planning and Assessment
2014 Category Leader Staff Augmentation
KLAS Update: MEDITECH
Back to Top
The following excerpt from Healthcare Informatics was posted on March 23. It is an interview with Colin Buckley, director of research strategy at KLAS on EHR/EMR vendors and buying trends.
Healthcare Informatics: How will the competition for new contracts play out?

Colin Buckley: Based on the research we did for this new report, Epic and Cerner are still getting the bulk of the attention. Meanwhile, what will happen with the legacy EMR organizations—MEDITECH CS, and MEDITECH MAGIC? A lot of their customers are looking to upgrade to the latest Version 6, and they're headed in that direction. Version 6 is a new platform, so upgrading to Version 6 is really like doing a new implementation. But most of MEDITECH's customers are remaining loyal.
This interview supports our observation that MEDITECH's 6.x platform appears to be leading the majority of current clients and that they plan on retaining MEDITECH into the future. We thought you might find this useful to know as this is not always a viewpoint represented in literature.
MEDITECH Joins CommonWell Health Alliance
Back to Top
MEDITECH has become a member of CommonWell Health Alliance, an organization focused on national interoperability. MEDITECH's CommonWell membership represents 70% of the acute care EHR market and 20% of the ambulatory care EHR market. The following are excerpts from their respective announcements:
From MEDITECH:

"MEDITECH is proud to announce our collaboration with CommonWell Health Alliance. We believe that MEDITECH and CommonWell alliance will position our customers, and the industry, to successfully exchange health data across the continuum of care. With so many healthcare organizations struggling to match patient data and locate records in a fragmented system, the time was right to join forces with CommonWell. As a contributing member, MEDITECH can vote to steer the future direction of the CommonWell Health Alliance and our customers are in a prime position to take advantage of CommonWell's services. Our membership means a brighter interoperability future for our customers."

From CommonWell Health Alliance:

"MEDITECH is one of CommonWell's largest members to join since inception. It provides fully integrated technology solutions for hospitals, ambulatory care centers, physicians' offices, long term care and behavioral health facilities, and home care organizations. MEDITECH's membership increases CommonWell's share of the acute care market from 50% to 70%."
Benefits Realized! Achievements from READY Implementations
Back to Top
READY is MEDITECH's new implementation approach. In January, we started a series of articles highlighting benefits realized by clients that have completed or are underway with READY projects. While some of these examples may have been accomplished independent of 6.x implementation, they underscore the value READY brings.

In prior months, we shared successes from the clinical perspective. This month we will focus on benefits realized by Health Information Management (HIM) and Materials Management departments.
Health Information Management
Case managers now use the system for patient documentation instead of recording their information on paper.
Case managers increased productivity by working from their desks instead of going to each nursing unit to review paper charts.
A third party record system and related interfaces were eliminated providing full integration and eradicating associated annual fees and costs.
As most documentation became electronic it reduced paper preparation and scanning.
Echart Desktop provides access to ELR within one system improving productivity by eliminating need to access two systems.
Deficiency analysis improved use of CPOE by physicians, greatly reducing chart insufficiency.
APC edits now identified for "up front" remediation rather than being rejected at the claim scrubber, improving the revenue cycle process.

Materials Management
The process was resigned for consignment and operating room (OR) inventory management, greatly reducing inventory levels in the OR as well as reducing expired consignment items not tracked.
Resetting min/max levels and units of measure for all inventories which led to reduced inventory on hand and saved operating capital associated with unnecessarily high inventory valuations.
Improved management of perpetual inventories increasing reporting, efficiency and tracking.
Expansion of EDI utilization and implementation of handhelds resulted in improved patient charge capture.
Established tracking reports to measure:

Inventory fill rates including exchange chart routines and restocking requisitions
Inventory turns including the use of compiled/standard reports to measure turns of the current main stores inventory
Department purchase order cycle time including delivery of customer order after requisition is received, purchase order is cut and product is delivered
Vendor fill rate including percentage of a department order that is filled on the first shipment

We hope this information provides inspiration for recognizing opportunities within your current system and demonstrates where a migration to 6.x could provide value to your hospital. If you have specific questions regarding areas of benefit, let us know.
Update: Meaningful Use Attestations
Back to Top
MEDITECH has shared the following information for the number of customers that have attested for Meaningful Use:

Stage 1 – 593 customers
Stage 2 – 373 customers and steadily increasing
MEDITECH Client Services' Quarterly Update
Back to Top
MEDITECH is conducting 30 minute Executive Connection Webinars on April 21 and 28 to talk about their latest initiatives.

The following are excerpts from MEDITECH Client Services' quarterly update. As you read the topics, click on the corresponding links for more information.
MEDITECH's Proactive Approach to Patient Safety: Year after year, our New Year's resolution remains the same: To provide quality software that ensures patient safety — and 2015 is no different. We kicked off the new year by refreshing our internal Patient Safety Review Board (PSRB), most notably adding Physician Informaticists Steven Jones, MD and Bryan Bagdasian, MD to insert a clinical perspective. Click the headline to learn more about this refresh, as well as our proactive development efforts.

Assign a MEDITECH Information Security Contact Today: Information security and breaches are increasingly making headlines in the news. While healthcare is a target, MEDITECH continues to make security, privacy, and patient safety top priorities. In order to facilitate better communication on security concerns, we are asking that each organization provide an information security contact.

The Key to Reducing Readmissions? Coordinated Care Transitions and the MEDITECH EHR. With the Centers for Medicare and Medicaid Services (CMS) now using a risk-standardized excess readmission ratio to reduce hospital reimbursements, MEDITECH is helping its customers to keep their readmissions low and avoid penalties.

MEDITECH Completes Certification and Audit for EPCS: We're pleased to announce the MEDITECH MAGIC, Client/Server, and 6.x platforms have completed the Surescripts certification and BDO audit for Electronic Prescriptions for Controlled Substances (EPCS).

5.67: MEDITECH's Pathway to Meaningful Use in 2017: Plans are well underway to prepare our MAGIC and Client/Server customers for the next stage of Meaningful Use. This announcement details our rollout plan for updates. Organizations are encouraged to work with their HCIS Coordinator to begin scheduling a full ring release update.

Priority Event Opt Out Authority: Recent discussions with customer CIOs, the Patient Safety Review Board (PSRB), and the Customer Patient Safety Advisory Board (CPSAB) have led to a new option regarding priority event deliveries. Please ensure your organization has defined a Patient Safety Contact so you don't miss important patient safety-related tasks and emails.
MUSE International Conference – See You There!
Back to Top
The annual MUSE International Conference will be held at Gaylord Opryland Resort & Convention Center in Nashville, TN from May 26 – 29. There is still time to register.
If you are planning to attend, please stop by our booth, #610. If you'd like to meet with us, contact John Haffty, jhaffty@navinhaffty.com to schedule a time.
Hoda Sayed-Friel, MEDITECH's executive vice president, will be the keynote speaker on Thursday morning of this conference. We will share more details in our May newsletter including sessions that are of special noteworthiness.
MEDITECH will also have public relations representation at MUSE. If you are interested in getting some extra publicity, schedule an interview with senior PR writer Jessica Crawford by email, jcrawford@meditech.com or phone 781-774-3979.
MEDITECH Events
Back to Top
MEDITECH On the Road:
MEDITECH will be holding "On the Road" events in May. These are one day sessions focused on optimizing strategies for your current MEDITECH system and providing an opportunities to learn about the new platform. Some of the highlights will be to:
Learn strategies for getting MORE from your current MEDITECH system
Discover how MEDITECH's clinically-sophisticated tools are redefining productivity
Hear from customers who've made the move to the bold new platform.
May 12 – Dallas, TX Registration Open
May 14 – Myrtle Beach, SC Registration Open
Upcoming…
Nurse and Home Care Forum // June 17-19, Foxborough, MA – Register Today – keynote speaker Jane Englebright, chief nursing officer for HCA
6.x Peer-to-Peer Information Exchange // September 16-17, Foxborough, MA – Register Today
Physician and CIO Forum // November 5-6, Foxborough, MA – Register Today – Save the date for your CMOs and CMIOs
Client Job Board
Back to Top
If you are interested in exploring new positions at other organizations visit the client job board section of our website. This is a free service of Navin, Haffty and Associates to the MEDITECH community. Currently, there are many postings from MEDITECH organizations. If you or a colleague are interested, take a look and see what's open.
If you would like to include your organization's listing on the Navin, Haffty & Associates website, please email Kelly Tracy at ktracy@navinhaffty.com (Please note that as this is a courtesy to the MEDITECH community, we will not accept postings from recruiting companies.)
NAVIN, HAFFTY & ASSOCIATES
Back to Top
Since our inception, Navin, Haffty & Associates' sole focus has been providing solutions that maximize the value of your MEDITECH EHR. The experience we have gained along the way has made us the largest and most respected MEDITECH consulting firm in North America. This exclusive focus has allowed us to provide clients with greater insight and understanding of MEDITECH's capabilities and the expertise to better deliver innovative tools, solutions, and strategies that improve your operational performance and enhance patient care quality. Our proven track record has positioned us to become MEDITECH's first and most experienced READY- certified consulting firm.
Our staff not only makes up the largest MEDITECH consulting team available, it is also comprised of the most experienced professionals in the industry. Our pool of 240+ consultants are some of the most seasoned professionals in the industry with an average 14 years of MEDITECH, 18 years of overall IT, 6 years of consulting, and 20 years of EHR/HCIS experience. By leveraging the combined expertise of our consulting team, Navin, Haffty & Associates stands second to none and is uniquely positioned to meet the needs of any organization utilizing the MEDITECH EHR. Our proven track record of success has led to Best in KLAS rankings for Planning and Assessment and Category Leader for Staff Augmentation.